Damon Young (text), Peter Carnavas (illustrator), My Dad is a Dragon, University of Queensland Press, August 2019, 32pp., RRP $24.95 (hbk), ISBN 9780702260490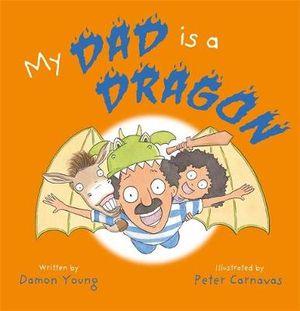 Following on in the series of imaginative picture books that take a fun look at busting some stereotypes of family roles with My Nanna is a Ninja, My Pop is a Pirate, My Sister is a Superhero, My Brother is a Beast and My Mum is a Magician – it's time for dads to be treated to the creative joy of writer Damon Young and illustrator Peter Carnavas in My Dad is a Dragon.
In My Dad is a Dragon, readers meet a diversity of dads from different backgrounds and doing interesting things. There are bee-loving dads, skater dads, baby-sling wearing dads and lovable clumsy dads all in gorgeously funny scenes.
Young's carefully crafted text is expressive and has a wonderful rhythm for reading aloud. As we meet each of the very differently rad Dads, we see through the eyes of one daughter, every way in which her dad has the qualities of a dragon. Whether it's his bravery or unintentionally scorching steaks on the barbeque, here be dragon dad!
Carnavas' clever illustrations provide a mix of silliness and yet a beautiful poignancy and warmth in each scene. The earthy colour tones create a dusky evening bedtime story feel. There is an easy believability in the whimsical concept of a dad doing everyday things who is also as epic as a mythological dragon in the eyes of children. Children can spot the antics of a cheeky donkey that recur throughout the pages, and there are other loveable animals to notice. Each page feels like a visual treasure hunt in this dragonish tale, with more to explore with each reading.
In My Dad is a Dragon, Young and Carnavas have captured the spirit of all sorts of dads who are quirky, cool, clever, and will scale any heights in their quest to provide legendary warm cuddles.
Teacher's notes for My Dad is a Dragon are available on the publisher's website.
Reviewed by Angela Brown