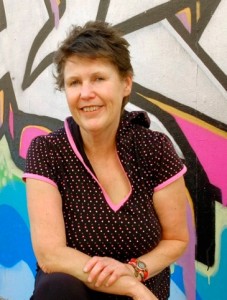 Debut author Rosie Borella shares with Reading Time the inspiration behind her first novel for Older Readers The One and Only Jack Chant, and gives us a hint at what is coming next for her…
Jack Chant – extreme challenge 
The One and Only Jack Chant is a young adult novel set inside a nursing home.  You can almost hear the groans, the pointed shifting of body weight on chairs, feel the eye-rolls.
But I was working in one when I started writing it, and the place had become weirdly fascinating to me.  So I set myself an extreme challenge – could I bring a nursing home to life for other people?  A nursing home, with all its rigid routines and long days of boredom for the occupants?  Interesting?  O-kay.
A double challenge – I wanted to create something that might capture the imagination of a teen audience, a group not likely to contemplate the inside of a nursing home for another 60 years.  A crazy idea, I know, but…  I was already obsessed.
Little kids and teens were thin on the ground in the nursing homes where I worked.  Sad, because there's nothing like seeing a little kid to make an older person light up.  And when they talk about their teen grandchildren, they nearly burst with pride.  I began wondering how the place supposed to become people's 'home' in later life in any way resembles 'home,' in the sense we expect − an emotional shelter, a haven for family, a retreat.

Night shift 
In The One and Only Jack Chant, 16-year-old Amber takes a gap year before uni.  She does a three-month carer's course and gets herself a job in the town's nursing home, Tranquil Banks.
Soon she's coping with full-time work and more responsibility than she imagined.  To earn money for a car she has to feed dribbling old people and wipe their bums – even shower her creepy old former maths teacher!  At last she can afford to go out, but her friends are away at uni, she's on night shift, and her social life is too tragic to talk about.
And then … enter the enigmatic Jack Chant.  A boy about Amber's age, he seems to be living in a vacant room at the nursing home.  He says he was a trick-rider in the circus, but big chunks are missing from his memory.  Like me, Jack and Amber share a passion for horses.  Amber's quest is to unravel Jack's past, and what he's doing in the nursing home.

Boy running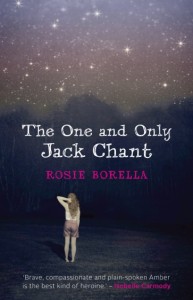 One night, in one place I worked, the staff were buzzing – they kept replaying some footage from the CC-TV.  All I could see was a black blob of static, but some nurses swore they could see a boy in a hoodie, running into a room.  But the room shown on camera was locked and empty.  Nobody lived there yet.
And that's where Jack Chant was born.  Like Amber, it became my quest to work out who he was, and what he was doing in the story.  On the surface, I knew – he was an outsider, somebody able to ask: Is this how you treat your old people?  But beyond that, I had to solve the mystery along with Amber, as I wrote the book.

Boot camp 
I made a radical career change to start writing fiction, and life had become a bit of a rollercoaster.  I'd worked in journalism, public relations, marketing and science writing, spending long days at the keyboard.
Finally, I realised I couldn't come home and do a double shift at the keyboard, trying to write the words I wanted.  So I did something rash.  I did 'nursing boot-camp' and went back to the career I'd left behind years ago.  At last I could work part time, then write what I wanted.
Like Amber, I soon found myself working night shift in a nursing home.  On my days off, the words were coming out.  At last I finished a novel I'd been working on for ages.  Everything seemed perfect – until the publisher turned it down.  Suddenly my grand plan didn't seem so brilliant.

Something new 
I tilted at this first novel again and again, getting nowhere fast.  Then my amazing friend and mentor, Isobelle Carmody, gave me some timely advice: Start writing something new.  When I first met Isobelle (a.k.a. the queen of Australian fantasy) we were both working as journalists.  She'd just published the first book in her acclaimed Obernewtyn series, and she was the first real-live author I'd ever met.
Write something new.  But what?  Then it hit me – the nursing home − write what you know.  At work I would often see or hear or walk into a situation I thought was strange or funny, or sad or profound.  And that became my challenge – translating some of it onto the page.  I hope I've succeeded with The One and Only Jack Chant.
Now I'm working on two new books – one gritty dystopia, and another set here and now.  The second is about a girl who's desperately in love with her best friend's boyfriend…
Read Julie Long's review of The One and Only Jack Chant in the Older Readers review section.