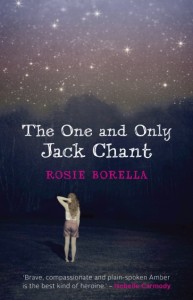 Rosie BORELLA  The One and Only Jack Chant Allen & Unwin, 2014 319pp $15.99 pbk ISBN 9781743311387 SCIS 1648010
Amber's life is undergoing change as she decides to take a gap year, do a short course and qualify as a carer in a local nursing home.  Her best friend has gone off to university and Amber misses her company and a chance to confide in someone.  When a mysterious, attractive boy appears both in the spare room at the nursing home and camping on her family's property, Amber's curiosity leads her on a path of discovery and ultimately loss.  She must be brave and face events both from the past and in the present.  This is an engaging story with elements of supernatural and mystery which explores self discovery, friendship and family interactions.  Recommended for 12 to 16 year olds.
reviewed by Julie Long
Read an interview with author Rosie Borella in the Interviews section.