Phoebe McArthur, Lucy Newton Little Witch, Christmas Press, November 2018, 70 pp., RRP $13.99 (pbk), ISBN 9780648194507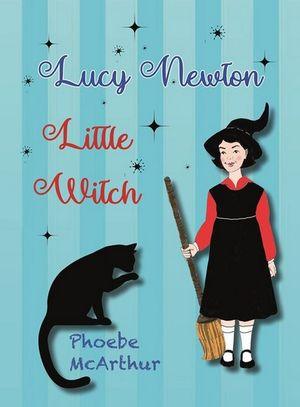 Lucy Newton, Little Witch is the first book by author/illustrator Phoebe McArthur.
Lucy Newton is an eight-year-old apprentice witch, who finds herself in a spell of bother. One evening, Lucy's mother leaves the house on important witch business. Lucy decides to experiment with a bit of her own magic. This leads to some unexpected slimy complications.
Lucy seeks help from her only companions. A spell book that can talk and a black cat called Thomas, who belongs to the scary witch next door. Not everything goes quite to plan.
Lucy's adventures are amusing, imaginative and very well-paced. It consists of nine chapters and 67 pages. There are simple but delightful black and white illustrations. The illustrations are well-balanced with the large font text and wide line spacing. There are also five lovely full-page panel illustrations.
Whilst Lucy Newton, Little Witch will particularly suit readers transitioning into novels, the dialogue is not too over simplified. To hold, the book is slightly shorter than standard novels, making this easy for little hands to turn pages.
Phoebe McArthur has created a magical little book, voluminous with antics and action within a short format. I hope there are more stories ahead for Lucy and her unusual friends.
Reviewed by Angela Brown