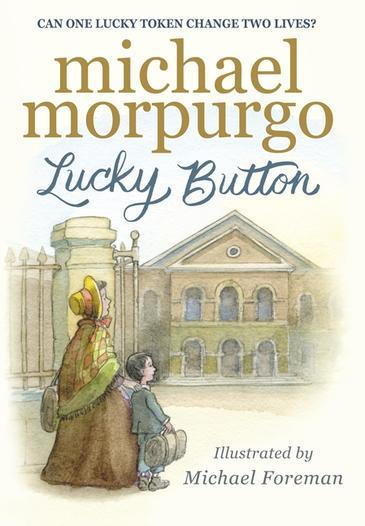 Michael Morpurgo (text), Michael Foreman (illus.),  Lucky Button, Walker Books Australia, 1 Feb 2018,  176pp.,  $19.99 (hbk),  ISBN: 9781406371680
Lucky Button, by master storyteller Michael Morphugo, introduces us to young Jonah, who spends his nights caring for his ailing mother and his days attending an English high school. Jonah is lonely and sad and the obstacles to his happiness seem unsurmountable. He finds solace in music and when he is cast as Piggy in a musical version of Lord of the Flies, he embraces the role. However, the kids playing bullies in the musical are also bullies in real life, and things go from bad to worse.
Jonah's school is a grand old institution, a school originally established for foundlings, where pictures of past students line the walls and ghosts are rumoured to haunt the halls. One day Jonah runs from the bullies and finds refuge in the school chapel. Here he spies an old button on the floor which belongs to a ghostly organ player, Nathaniel, and the two meet up. Once a foundling himself, Nathaniel the ghost regales Jonah with stories of his remarkable childhood in the eighteenth century, in which he encountered many famous people.
This touching tale, inspired by real people and events, ends on a hopeful note. A story within a story, beautifully illustrated by Michael Foreman, it is likely to appeal to kids eight years and older.
Reviewed by  Elizabeth Foster