Jack Heath, Lockdown (Liars #4), Scholastic Australia, June 2019, 240 pp., RRP $14.99 (pbk), ISBN 9781742993423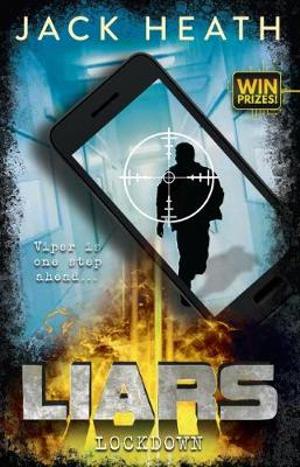 Armed mercenaries invade a hospital and start taking hostages. Some school kids barricade themselves in a surgical theatre, but the mercenaries are hunting an injured man… and he's in there with them. Jarli, creator of the Truth app, is one of the students trapped in the hospital. All the phones are jammed. No help is coming. The truth is deadly…
Lockdown is the fourth instalment in the fast-paced and exciting Liars series. Jarli, our main protagonist, is in serious trouble this time… in this case the reader knows a lot more about what's going on than the characters do (I won't give any spoilers!), but that doesn't mean the book isn't full of surprising twists and turns.
I've only read Book 3 "The Set-Up") before this, but I feel like Heath has really settled in with his style and characters; and I really enjoyed the change to a more claustrophobic setting in this one. Whereas the story of The Set-Up moves around a lot between multiple locations, Lockdown is set almost entirely in the confines of the hospital, and I think that makes it a better book. It has almost a "Die Hard" vibe to it, and Heath has really made that work for him. It really helps the reader feel what the characters are feeling… the suspense, the danger, the adrenaline, we're right there in the hospital with them.
Heath is no stranger to the adventure serial format, having thrilled readers with his Minutes of Danger and Countdown to Danger series for the past four years. Liars looks like it's well on the way to earning a place alongside them. The action and the plot move along at a cracking pace, the characters are likeable and I think each of us will find someone we can relate to in some way.
These books are aimed at readers in the 10+ age category (Heath is starting to make a name for himself as the Lee Child of middle fiction!), and from what I understand these kids can't get enough of them. It's not hard to see why.
The fifth book in the Liars series, entitled "Armageddon", is due out in September 2019.
Reviewed by Christian Price