Isabelle Bottier (text) and Helene Canac (illustration), Cassandra: Animal Psychic, Cassandra Steps Out, Walker Books Australia, September 2019, 56 pp., RRP $14.99 (pbk), ISBN 9781541572836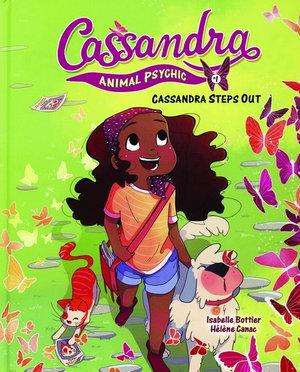 Cassandra is special. She can communicate with animals, a handy gift to have when dogs are trapped in cars on hot days and a family is missing their beloved cat. But is Cassandra brave enough to let everyone know about her special abilities?
This new graphic novel series is for the young animal lover who dreams of hearing the thoughts and ideas of their finned, fanged, feathered or furred friends. In this first installment Cassandra learns to deal with change as a necessary part of life and one that you must adapt to. When her best friend is set to leave the country and her mum decides they will move in with her new boyfriend and his daughter, Cassandra is hurt and angry. It is only through revealing her secret animal telepathy to a stranger and solving the mystery of the lost cat that Cassandra understands that "sometimes loving someone means letting them live the life they want. Even if that's a little sad for you."
The plot is not unique but the illustrations and sarcastic quips throughout are engaging and drive the overall theme of change instigating fear, anger and uncertainty. The character development is clear and will be easily identified by young readers.
This style of graphic novel is particularly good for young readers who are intimidated by pages of text and rely heavily on images to support meaning. I recommend this for any such readers in the 7-11 year age bracket.
Reviewed by Katie Mineeff