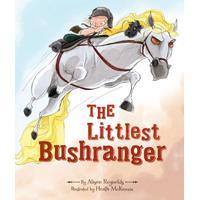 REYNOLDS, Alison (text) Heath McKenzie (illus.) The Littlest Bushranger Five Mile Press, 2013 unpaged $16.99 ISBN 9781743464977 SCIS 1609822
Jack is left to play with Hector, the dog, in their yard, while his lucky big sister, Lil, gets to go to school.  However, after the snatching of Lil's telescope by an evil flying outlaw, Jack and the fearless Hector go on a very exciting adventure to retrieve it.
Thanks to Jack's magnificent imagination and plenty of ingenuity, the adventure includes: riding a magnificent steed (formerly a bicycle), hurdling a slithery tiger snake (garden hose), ploughing through a scorching desert (sand pit) and splashing through a murky billabong (or the wading pool) despite the bug-eyed green and brown bunyips.  But as Jack points out nothing will stop his gang until the telescope is recaptured.
Naturally, Jack speaks in the best bushranger type of language: 'Stand and deliver', 'You're no match for me, Outlaw!' and 'We'll ride again.'  Lots of fun and suitable for children aged four to seven.
reviewed by Katy Gerner