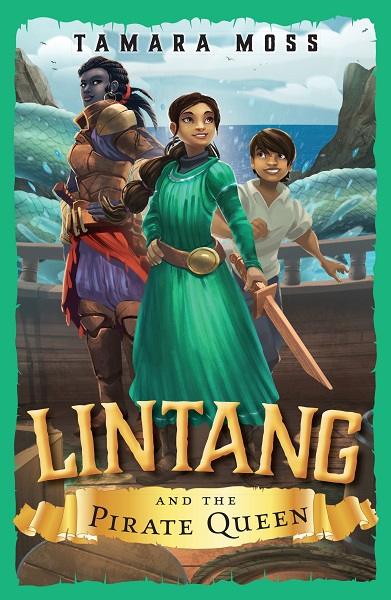 Tamara Moss,  Lintang and the Pirate Queen,  Random House Australia,  31 July 2017,  336pp.,  $16.99 (pbk),  ISBN: 9780143783435
Lintang dreams of having adventures on the high seas.   When a deadly mythie attacks the same day the infamous Captain Shafira visits her island, Lintang gets her chance, defending her village with a bravery that earns her a place on the pirate queen's ship. But they've barely left the island when Lintang discovers her best friend, Bayani, has stowed away. Telling Captain Shafira means betraying her friend, but keeping Bayani's secret risks everything… including their lives.
Lintang and the Pirate Queen is the first in what looks to be a series of books revolving around the adventures of Lintang, a young girl who lives on an idyllic island but dreams of travelling the world and being in control of her own fate, rather than the ordered life her parents and community have designated for her.
Told in the third person, we get a sense of what kind of a person Lintang is from the very beginning.  She wants to do the right thing and her heart is in the right place, but somehow she can't help getting into trouble no matter how hard she tries… and, of course, the call to adventure is just too strong to resist!  We definitely sympathise with her… Lintang sees her whole life all planned out for her, and while the ritual and tradition of her island home is warm and comforting, she cannot quiet the voice inside that wants to lead her to new and exciting experiences in the wider world, a world she has only glimpsed so far.  We want so badly for her to succeed in her quest, to fulfil her dream of earning a place on Captain Shafira's ship… we cheer when she triumphs and gasp when he plans go awry.
Lintang joins the ranks of other popular book series that centre on a girl on the edge of womanhood who yearns to make a name for herself and have her own adventures (other book series in this vein are Lian Tanner's The Hidden, and Sarah Driver's The Huntress).  This one strikes out in a new direction – Moss has woven a rich original mythology into the story, with "textbook-style" pages regarding the various mythies that are encountered throughout Lintang's adventures.
Suited to readers of around the protagonist's age (12-14), Lintang and the Pirate Queen is an empowering tale, entertainingly written and full of excitement and humour.  Moss conjures up a world both familiar and new, and fills it with bold and diverse characters.  Fresh and exciting, a thoroughly enjoyable read.
Reviewed by Christian Price