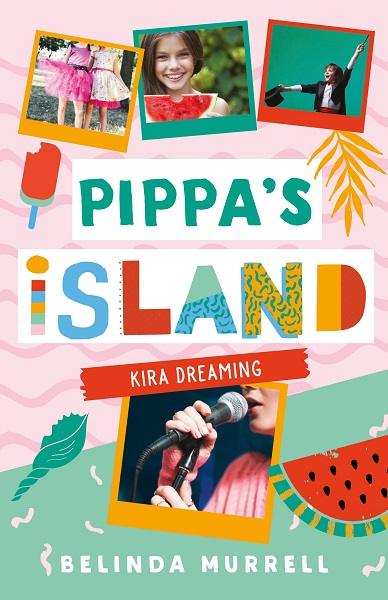 Belinda Murrell, Kira Dreaming (Pippa's Island #3), Random House Australia, 2 Jan 2018, 96pp., $14.99 (pbk) ISBN: 9780143783701
Kira Dreaming is the third book in the upbeat Pippa's Island series by popular author Belinda Murrell.
So far in the series, Pippa and her siblings have been uprooted from a seemingly happy family existence in London and moved to a caravan in their grandparents' back yard on a tropical island just off the coast of Australia.  Pippa's father has moved away to Switzerland for work, a decision neither the children nor Pippa's mother seem to have really come to terms with.
Despite the fact that Pippa now has to share such a tiny living space with her mother, brother and sister, she has made an exemplary job of fitting in and making the best of her new life in Kira Cove.
Not only has Pippa made a tight new group of best female friends, The Sassy Sisters, but she has a brand-new puppy to care for and has already helped to renovate an abandoned boat shack into The Beach Shack Café, her mother's new business venture.
This third instalment sees Kira Cove Public School hosting a talent quest and whilst the other Sassy Sister members (Cici, Meg and Charlie) are all super excited, Pippa suffers from stage fright, resulting in a disastrous audition for the group. Whilst dealing with their bitter disappointment and feelings of resentment, the Sassy Sisters get an unexpected second chance to perform. Pippa must dig deep and face her fear, finding courage and inspiration from some unlikely sources.
'The downside of being in a group of friends is that sometimes you feel pressured into doing things you don't really want to do. Like singing in a talent quest!'
Meanwhile, back at The Beach Shack Café the family's new home is finally taking shape, much to the delight of Pippa and her friends, but a mysterious new visitor is wreaking havoc and causing mischief for the café staff.
There is a definite touch of Enid Blyton about this series with its island setting and the confident outgoing children with their very own club. However, unlike many Blyton stories there is a broad cross-cultural feel and a more definite parental presence, with most of the adults in this title proving themselves responsible, kind and positive role models for the younger characters.
As their club-name would suggest the Sassy Sisters are strong, clever and determined girls who spend their time working on mainly creative endeavors and have an impressive knack for interior design.
Whilst the narrative is well paced and fun, the children often spend time discussing their projects, referring to their mood boards and the colours or materials they intend to use. I liked the inclusion of Cici's Guide to Making Your Own Tutu, Pippa's Top Tips to Smash Stage Fright and the easy recipe for Bella's Mango Madness Smoothie as it gives the title a scrap-book style twist and provides young readers with some inspiration and an age-appropriate project they may wish to try at home.
Given the age of the main characters, the story naturally touches on many of the struggles facing tween and early teen aged children, including the art of maintaining friendships, dealing with jealousy, feelings of anxiety over family issues and generally fitting in amongst your peers.
This title is sure to have widespread appeal for middle-primary aged children with a creative flair and a love of the beach or the café culture lifestyle.
Reviewed by Lisa Hoad