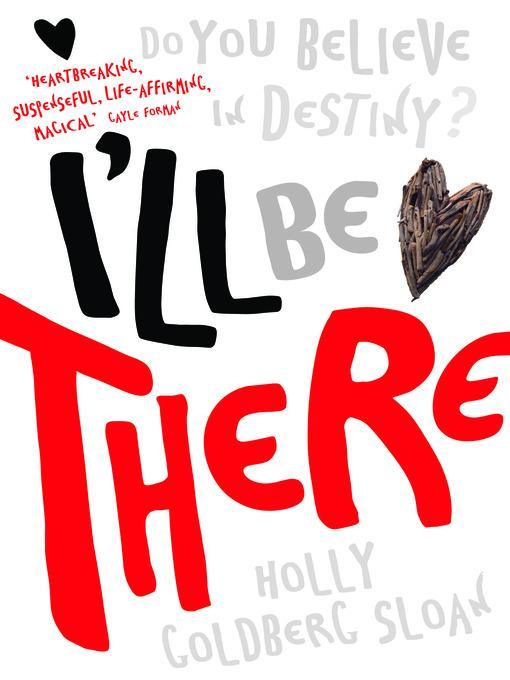 Holly Goldberg Sloan, I'll be There, Scholastic, 1 April 2015,  312pp.,  $16.99 (pbk), ISBN 97817601252888
Compelling and original, this novel for Young Adults explores the clash of  suburban stability with the turmoil of marginalised and violent homelessness. Seventeen year old Sam is the quintessential boy from the 'wrong side of the tracks' who blunders into the life and heart of Emily Bell, a middle class girl from a good family and neighbourhood but who places faith in destiny and the connectedness of the world.
The order of Emily's world is thrown into chaos by Sam's nomadic lifestyle with his twelve year old autistic brother, Riddle, and violent father, Clarence. This  leads to inevitable emotional clashes and physical danger. Sam and Emily's budding romance is fraught with objections from the adults around them, especially Sam's psychotic father, a brutal man who hears voices, trusts no-one and lives by theft and deception. The taciturn and secretive Sam challenges the parenting skills of Emily's staid father and mother, causing them to anxiously try to guide their daughter's emotional entanglement. However, their worries pale against the reaction of Clarence who, upon learning of the romance, immediately takes the boys back on the road and tries to kill them as he feels he can no longer control them. Their escape, desperate struggle for survival in the wilderness and eventual return to the grieving Emily, who believes they are dead, forms a dramatic catharsis in the last half of the book.
 I'll Be There is an exciting page-turner with the tense plot having many unexpected developments throughout while its tone and grittiness can be favourably compared with the much admired works of S.E. Hinton. The underlying themes of brutal family violence, mental illness and the difficulties of teenage relationships give I'll Be There an intensity that lifts it above the ordinary. However, for all its conflict and drama, the text is appealingly leavened with a trickle of humour and wry observations of human behaviour. The cracking pace of the short chapters and the multiple third person perspectives also help to offset any dark content. Sloan's background in screen writing can be felt in the crisp economy of the highly visual writing, yet she creates memorable, strongly drawn characters who have a robust realism and a flawed humanity that gives them depth and complexity.
Sloan understands teenagers and the extreme but sensitive nature of their emotions. Through the triumph of love over all odds, both Sam and the reader discover that "sheer joy wipes out pure pain," and it is this optimistic conclusion which ultimately makes I'll Be There a satisfying novel. The sequel, Just Call My Name, is much anticipated.
reviewed by John Nolan