J.K. Rowling, and Jim Kay (illustrator), Harry Potter and the Philosopher's Stone, Bloomsbury, September 2018, $29.99 (pbk), ISBN 9781526602381.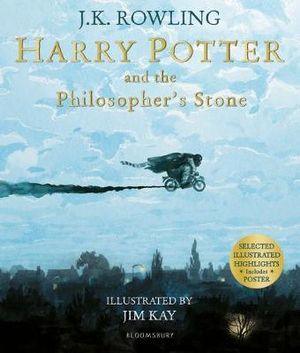 This is a review of the recently new full-colour illustrated paperback edition of Jim Kay's magically illustrated Harry Potter and the Philosopher's Stone.
Having carried the Bloomsbury hardback illustrated editions around for a few weeks after my children borrowed one from the public library, my shoulders remember how physically unportable they are, despite being so incredibly beautiful.
This Bloomsbury paperback edition is immediately noticeable as being more practical for everyday use. While still a lovely chunky tome to behold in paperback, the unique size of this book (19cm wide x 22.5cm high) sits nicely on the shelf next to other paperback and hardback Harry Potter books. When open side by side with the hardback edition, there is only a 9cm width and 4.5cm height difference.
The French flaps on the cover function well to give this paperback edition a robust feel. The pages are a pleasant, strong paper, beautifully smooth and with a low sheen giving a rich lustre to Jim Kay's incredible illustrations.
Although compared to the hard back fully illustrated edition, the paperback is leaner on illustrations as it contains selected illustrations, these have been very carefully chosen so that nothing immediately feels missing. You are still lost in Jim Kay's gothic glory of Hogwarts, the homely drudgery of the Weasley's house, can wander part of Diagon Alley. You will still meet Kay's beautiful interpretations of Harry, Hagrid, Snape and other characters. You will still explore the minute detail of a page from Newt Scamander's fantastic beasts field journal. Like the hardback, the book is a balance of double, full page and partial page illustrations. Some of the double-page illustrations from the hardback have been reduced in size to fit around the text.
There are only a few pages of text here and there without a visual element. The overall balance allowing J K Rowling's beautiful story to weave around Kay's illustrations is well done. The font seems sharper than in the hardback and is slightly smaller. Each page has a two-column layout, and a good amount of space between lines, compared to non-illustrated paperback novel editions.
The book spine seems robust, and you can lay the book out flat like a hardback for shared reading without too much visible crumpling of the spine. It confidently has the endurance for rides through library return chutes and general wear and tear from little hands.
Tucked into the rear French flap is a bonus poster in a standard frameable A3 landscape size (29cm x 41cm) which is one of the double-page illustrations from the Jim Kay hardback edition. I won't reveal which of the illustrations has been included! Judging by a collective chorus of 'woah' when we explored the poster, it is a bonus delight for Harry Potter fans of all ages.
Those familiar with the hardback editions might find the absence of some of Jim Kay illustrations a compromise too far. For new young Harry Potter readers, fans who want to carry an illustrated edition around or for libraries and high traffic use, this paperback fits a niche.
The Bloomsbury paperback edition is a handsome, instantly loveable, paperback version with selected illustrations. No less magical than the hardback, it is portable and affordable and will be adored by many Muggles.
Reviewed by Angela Brown