Kate DeCamillo (text) and Harry Bliss (illustrator), Good Rosie!, Walker Books, October 2018, 40 pp., RRP $24.99 (hbk), ISBN 9781406383577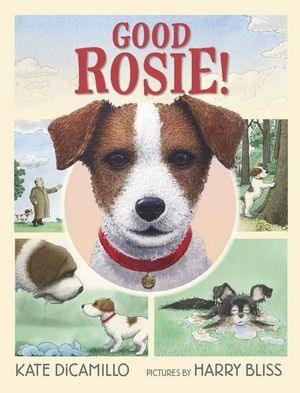 At first reading, Good Rosie! reminded me of Van Allsburg's The Sweetest Fig, but luckily Rosie has a much kinder owner than poor Marcel had. Every morning Rosie and her owner get up and have breakfast together, and every morning Rosie tries to talk to the dog she spies in her silver food dish. When her owner recognises Rosie's loneliness he takes her to a dog park to make friends. There, Rosie meets huge Maurice, and tiny but bold Fifi.
DiCamillo's writing is charming and subtle, thoughtfully portraying Rosie's isolation, anxiety and desire for connection. Maurice and Fifi provide funny foils for Rosie, and help her to learn about friendship and bravery.
Bliss bolsters DiCamillo's words with dynamic comic illustrations. Maurice is just the right amount of droopy, and Fifi's face when she is spat out made me laugh out loud. The comic style panels allow for interesting close-ups and perspectives that support the character and narrative development.
Teachers could use this book to discuss loneliness and friendships – something children have much experience of. Good Rosie! would also serve well as a book for analysing the comic style and use of perspective. The three dogs could be compared as characters, or Rosie could be compared to many other picture book dogs – Marcel for instance.
Reviewed by Madeleine Crofts