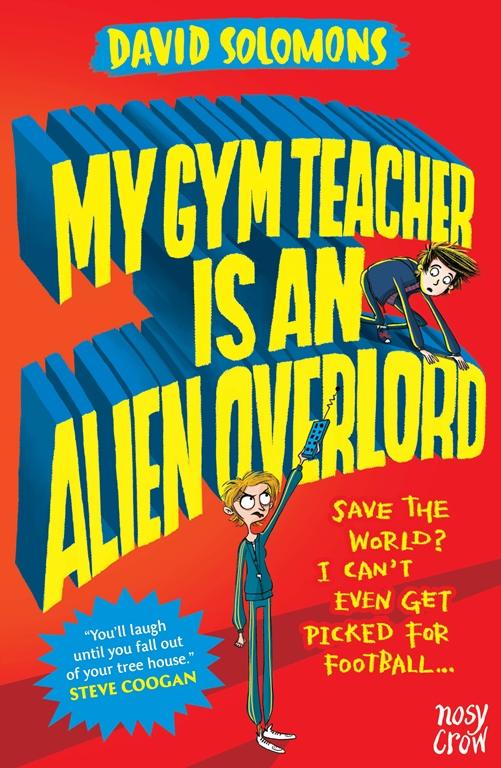 David Solomons, My Gym Teacher is an Alien Overlord,  Nosy Crow/Allen & Unwin,  July 2016,  320pp.,  $12.99 (pbk),  ISBN: 9780857637338
My Gym Teacher is an Alien Overlord is the sequel to My Brother is a Superhero. I haven't read the first book, but if the second is any indication, it must have been absolutely hilarious.
The second book is all about Luke and his resentment towards his superhero brother, Zack, and his superhero BFF, Lara. You can understand why he resents them. After they got their superpowers, they barely have time for him. Luke feels alone, neglected and ignored. Plus, they refuse to listen to him about a possible alien invasion – led by their gym teacher.  Totally not insane right?
It turns out Luke was right. An alien race addicted to reality TV is going to invade planet Earth. And they all look like the gym teacher Luke is scared of. The aliens jump from planet to planet, treating the destruction they cause as their prime time reality TV show.
Of course, no one believes Luke. He has no choice but to figure out a way to save the planet on his own – or with the help of another super-villain.
The book follows Luke's adventures on Earth, and on the alien mothership, as he gathers his non-powered friends to figure out a way to save Earth and stop humans from becoming the cast of an alien version of The Kardashians.
I read this book with my seven-year-old daughter and she absolutely loved it. It was slow going at first because we hadn't read the first one, but eventually my daughter picked up the beat and would beg to keep going till after bedtime.  My daughter was enthralled by the story and wished she could be Lara so she too could talk to animals. She had a great time trying to guess what Luke was going to do next to save Earth.
I enjoyed the book as well and found several funny bits in a lot of the chapters. It is quite an incredulous concept – death by reality TV – but it also says a lot about what today's modern society considers as entertainment.
Deep societal parallels aside, My Gym Teacher is an Alien Overlord is an entertaining read for your young reader. And the ending is an absolute cliff-hanger – I definitely want to know the mysterious new character to feature in the third book!
Reviewed by Kristyn M. Levis