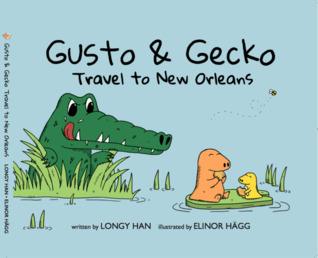 Longy Han (text), Elinor Hagg (illus.), Gusto and Gecko Travel to New Orleans, Self-published,  Oct 2016, 32pp., $22.95 (hbk), ISBN: 9780994341310
This is the second in the picture book series of two little travelling dinosaur friends, Gusto and Gecko. Having explored Kenya in their travelling Rombom machine, this time they end up in New Orleans in time for Mardi Gras and the Super Bowl. The adventure really begins when Gusto bites into a delicious beignet and is propelled through the air by his giant sneeze after the powdered sugar tickled his nose. Gusto bounces through one attraction to another, before Gecko comes to his rescue with the aid of a crystal ball.
The main characters of this series, Gusto and Gecko, are cute midget dinosaurs with a Moomin quality about them, and all the 'people' are animals. The illustrations are bold, in blocks of colour and naive style that would engage preschoolers. The illustrative perspective has interesting shifts and I enjoyed the challenge of working out the action from some of the aerial views.
The story is a fun and fanciful adventure with a gently suspenseful storyline set in an exotic place that is sure to ignite an interest in this part of the world. The use of onomatopoeia and the bouncing storyline would make it a fun book to perform aloud.
Produced with the help of a crowd-funding campaign, Longy Han has produced a quality book, from the tactile embossed cover, through the full colour pages to the origami crocodile instructions and glossary at the back.
More information can be found on the series' website.
Reviewed by Debra Tidball