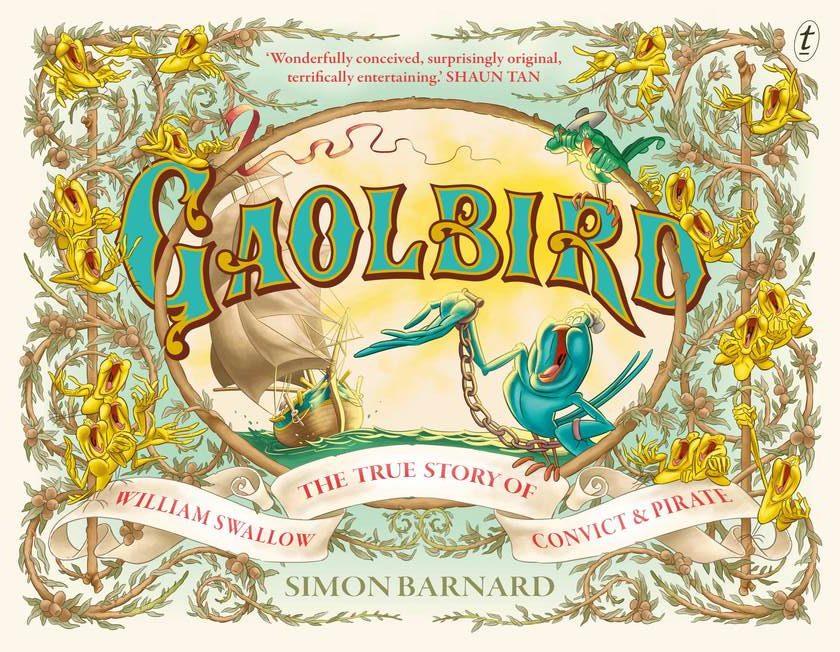 Simon Barnard, Gaolbird: the true story of William Swallow, convict & pirate,  Text Publishing, 31 July 2017,  40pp., $24.99 (hbk), ISBN: 9781925498172
Gaolbird begins on the day that William Walker arrives in Hobart Town on the convict ship Malabar after 121 days at sea. It is described as possibly
"the most outrageous and unbelievable true story in Australia's convict history".
Within the space of a few pages Walker has escaped captivity four times, tried to escape two more times, been transported twice and led a mutiny to gain control of the ship, the Cyprus, becoming captain of a band of pirates. Walker, who by now has changed his surname to Swallow, is gradually abandoned by most of his crew and ends up leaving the boat himself when there is no help left to sail it. He manages to talk his away aboard a boat back to England, but his cover is blown. He disappears before he can be recaptured but is eventually brought to justice.
Whilst the subheading of Gaolbird is "the true story of William Swallow, convict and pirate", for much of the first half of the book there is a second story that runs in frames across the bottom of each page, following the misadventures of another convict, John Popjoy. Like Swallow, Popjoy is a bold, larger than life character, and when the two stories intersect, his role as Swallow's nemesis becomes apparent. Swallow is able to talk his way out of worse punishment but is unable to avoid transportation to Port Arthur. After his death his adventures are immortalised in 'The Ballad of the Cyprus', the lyrics of which are included at the end of the book along with authors notes about Swallow's life.
Laden with facts about Australia's convict era, Gaolbird is vividly illustrated with brightly coloured cartoonlike images that are very detailed. Making the idea of gaol 'birds' literal, the convicts are shown as canaries because of the canary yellow outfits they wore, while Popjoy is depicted as a parrot and Swallow as a… swallow. This is an exciting book with a lot going on, both visually and in the story. Readers will enjoy this highly entertaining insight into two incredible characters from Australia's convict history.
Teaching Notes are available on the Text Publishing website.
Reviewed by Rachel Le Rossignol