Adam Wallace (text) and James Hart (illustration), Fartboy: The First Sniff (Fartboy #1), Scholastic Australia, February 2020, 128 pp., RRP $14.99 (pbk), ISBN 9781743832615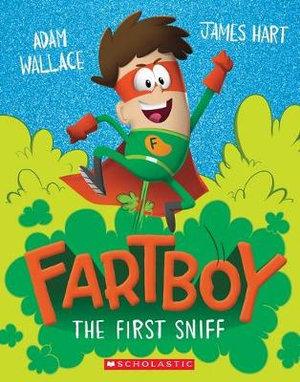 If you are looking for silliness, fart jokes, accidental superheroes, and long-lost grandmas then look no further. Fartboy: The First Sniff is the first book in a new series by Adam Wallace and James Hart, the creators of Cowboy and Birdbrain. Fartboy tells the story of Martin Kennedy, the tidiest boy in the world's tidiest town. Martin's big claim to fame is that he is so neat and clean he has never farted. As with all great origin stories an accident changes Martin's neat and tidy life irrevocably and he becomes Fartboy.
Martin's much-loved parents go missing in the accident, leaving room for his long-lost grandma to turn up and become his farting mentor. While it is clear to older readers that Martin's missing parents will most likely form the story line for a future book, this may not be clear to the book's intended audience (6 years and older). Care should be taken when reading this to or recommending it to young readers who experience anxiety about separation from their parents.
The publisher recommends the book for children who are looking to transition to longer stories. As such, it is well written with a good combination of pictures and text. Different fonts are used effectively to emphasize parts of the text. There are a number of longer words included throughout the text such as committee, catastrophic and evacuation that some readers may struggle with. The text is divided into chapters however, curiously these are not labelled Chapter 1, Chapter 2, etc.
Fartboy: The First Sniff is a very fun and funny book, and Martin the unlikely and somewhat reluctant hero is sure to engage and entertain young readers.
Reviewed by Anne Varnes