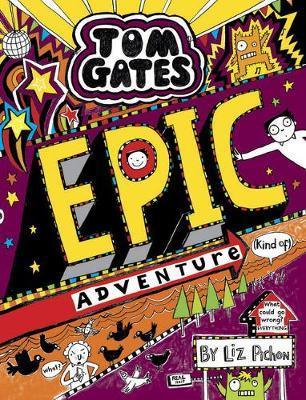 Liz Pichon, Epic Adventure (Kind Of) (Tom Gates #13), Scholastic Australia, 1 Nov 2017, 240pp.,  $16.99 (pbk),  ISBN: 9781742768779
Another hilarious installment in the Tom Gates series, Epic Adventure does not disappoint, with embarrassing 'wrinklies', uproarious classroom capers and an annoying sister providing endless adventures for Tom.
Tom is pretty pleased to have two sets of grandparents (wrinklies) who give him presents like a vuvuzela (which blasts at the most random and entertaining/annoying times) and plan cool outings like visiting Crambly Castle – 'it's no Disneyland but still…' And with the school's Tropical Disco on the same day as the family outing Tom has so much to look forward to! Until nothing goes to plan…
As in all the Tom Gates books the graphics are captivating and add humourous side-notes to the story line. A particular favourite is the disco dancing oldies at the 'Slipped Disco' with Tom and his vuvuzela at the turn-table!
Equally as engaging is Tom's narration, which easily engages young readers and consists of real (though exaggerated) themes that 8-12 year olds can relate to.
This is a series that is enjoyed by many children. In the classroom I see students feverishly devour Tom Gates during silent reading then grab their sketch books to mimic the graphics within. I'd recommend this particular installment to existing Tom Gates fans and those who want a bit of fun in a book!
Reviewed by Katie Mineeff