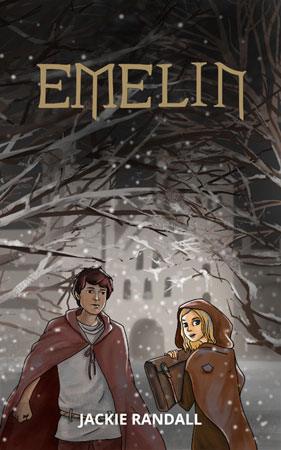 Jackie Randall, Emelin, Self-Published, May 2017,  172pp., $14.50 (pbk),  ISBN: 9780995379718
This is a first-class historical fiction read for the middle school age group. Emelin is an orphan in medieval England. Having seen first her father, then her mother and still born baby brother, die, Emelin has spent two years with her Uncle Calibor, a kindly if reluctant guardian. Calibor is an illuminator of manuscripts, and a very good one. Finding that his niece shares this special talent, he teaches her the trade, which she learns very quickly. This poor but happy life is disrupted just at the time when prospects are looking up. Calibor has won a special job – illuminating a book for one Geoffrey Chaucer. THE book, actually. But through a combination of professional jealousy and misadventure, Calibor meets an untimely end, throwing Emelin into the abyss once again. Unless… Could she complete the work without raising suspicion? Emelin has the brains and the courage to give it a try.
Jackie Randall tells this story with just the right amount of authentic detail and heart. Emelin is a beautifully written character who bets her life on getting this right. Her plans are fraught with danger however, but luckily she is put in the path of a companion. Wolf, a little older than Emelin who is barely 12, has his own back story which is to come later. Meanwhile he agrees to help Emelin enact her plan, and the two gain shelter at a monastery while Emelin completes her work.
There are many twists and turns to this story, and some very good and bad characters along with it. The writing moves along quickly, and the author's knowledge of the subject does not over-weigh her feel for character or story. A thoroughly enjoyable read.
Reviewed by Marita Thomson