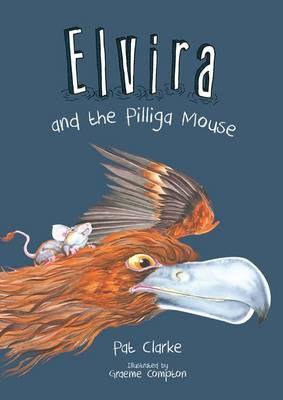 Pat Clarke (text),  Graeme Compton (illus.),  Elvira and the Pilliga Mouse,  Little Steps Books, Dec 2016,  76pp.,  $24.95 (hbk),  ISBN:  9781925117981
When I first saw this book I was unsure what to make of it. Is it a chapter book or picture book? Why is it so big and who is its target audience? To allay my confusion I incorporated Elvira and the Pilliga Mouse into my daughters' nighttime reading routine. On its completion I asked if I should give this unique story a good review to which my six-year-old daughter responded, "Well, it's very detailed with lots of exciting parts. Give it a good review, Mum."
Elvira and the Pilliga Mouse is an engrossing story of self-discovery for young readers. Elvira is a wedge-tailed eagle who is blown away from Taronga Zoo in a storm and decides to use the opportunity to find her father in the Goonoo Forest before heading back to the zoo. So ensues an exciting journey for Elvira who saves humans and creatures in need along the way.
Pat Clarke's first hand knowledge of Australian flora and fauna does not go unnoticed in this book. From descriptions of forest sounds to the workings of native animals and their feral predators, there is no mistaking the Australian-ness of this story. Graeme Compton's illustrations support this idea beautifully with lightly coloured gum trees, koalas, goannas, kangaroos, wallabies, possums and black cockatoos littering the pages. The iconic sites of Sydney, the Opera House, Harbour Bridge and Sydney Tower are not missed either in Compton's painted landscapes.
Each adventure and anecdote experienced by Elvira is punctuated with a chapter, allowing for a short reading session that satisfies rather than leaving the reader desperately wanting to read on – perfect for a bedtime reading companion.
The conclusion itself was sweet and satisfying with Elvira realising the best of both worlds, a life of freedom with her newfound mate, and a precious final farewell to her zoo handler, Shelly.
The additional glossary of species found in the Pilliga Forest is a touch of genius, that little something extra for the child who yearns to gather interesting and often unknown facts about animals!
I'd recommend this for the classroom library and the home bookshelf. Physically big enough for a group read with enough illustrations to satisfy the younger reader.
Reviewed by Katie Mineeff