Elise Hartley (Text), and Shannon Horsfall (illustrator), Dear Santa, Scholastic Australia, October 2018, RRP $17.99 (hbk), ISBN 
9781742993683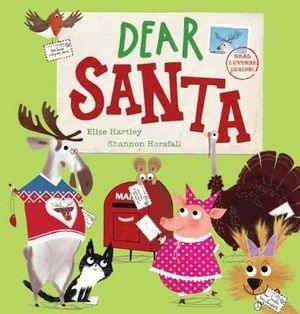 This book is made up of a series of letters to Santa, most of which can be removed from the book to read. It is clear that illustrator/designer Shannon Horsfall has tailored each letter to the specific animal, as each spread has a distinct look and feel that complements the letter. The inclusion of an email and a postcard from Australia are nice touches, and removing and reading the letters will be the main attraction for readers.
This title could be more engaging – there is no clear "plot" tying the letters together, just an implication that Santa is being overwhelmed with letters. An opening spread introducing the idea that Santa has received too many letters and corresponding closing spread explaining how Santa managed would tie the letters together nicely.
Some of the jokes might go over younger readers' heads (e.g. a "Rockin' Robin" reference), but parents will enjoy the smattering of "grown-up" jokes and puns.
Small children may need to be supervised while reading to ensure letters aren't ripped (or chewed!) but overall this is a nice light Christmas read, and perhaps a good way to kick off a letter-writing activity.
Reviewed by Jessica Dowling