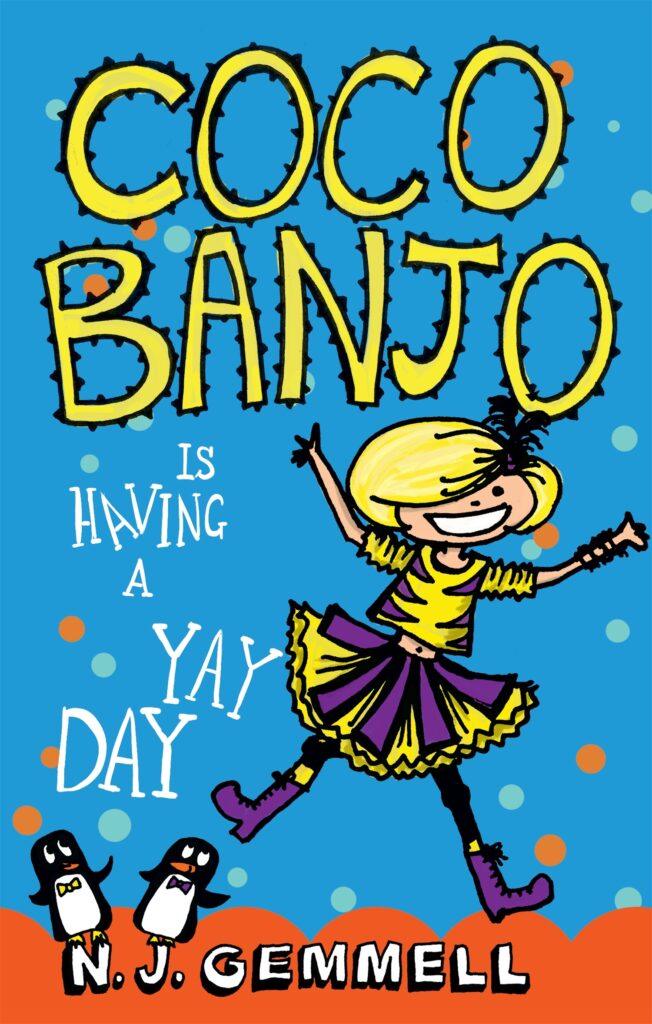 N. J. Gemmell,  Coco Banjo is Having a Yay Day,  Random House,  1 June 2015, 192pp.,  $14.99 (pbk),  ISBN 9780857987334
Coco Banjo lives on a private island in Sydney Harbour in the 'most glamorous and mysterious house in Sydney. Possibly Australia. Possibly, even, the world.' Her mother, who dresses the rich and famous, is largely absent as is her appointed carer, 'aging British rock star', Rick Ragger. But, Coco is not alone. For company she has Daisy, the dolphin; Wing and Wang, the fairy penguins; Jayne, the hairbrush; and her great school friend Narianna Nicketson (aka N.).
When we meet Coco, she has just decided to have a 'yay day'—a day when she will play hooky from Banksia Bay Public School and its ghastly headmistress, Miss Trample. Instead, she will have a super-naughty celebration of spectacular and creative fabulousness. At least, that's the plan until she spies a secret distress signal sent by N. Time for a new plan: Coco to the rescue.
As author Nikki Gemmell unfolds her story (in which Coco's inventiveness saves the day for N. and uncovers a previously unsuspected side of Miss Trample's youth), she incorporates incidental details about Gadigal culture and the First Fleet, and also manages to put in a plug for the good things that school has to offer. The text is infused with Gemmell's playful illustrations; the pictures help to carry the story in a way that will assist beginning readers and keep them entertained.
Coco belongs to the larger-than-life lineage of Astrid Lindgren's Pippi Longstocking. She is wayward, daring, bold and impulsive. When it comes to restoring fairness, no challenge is too great and no solution too outrageous. I dare anyone to read this book and not feel uplifted and reinvigorated about life. Book two in the series, Coco Banjo Has Been Unfriended, is now available and book three will be published in early 2016. Teachers' resources can be found on the Random House website.
Highly recommended. For ages 6+
Reviewed by Tessa Wooldridge