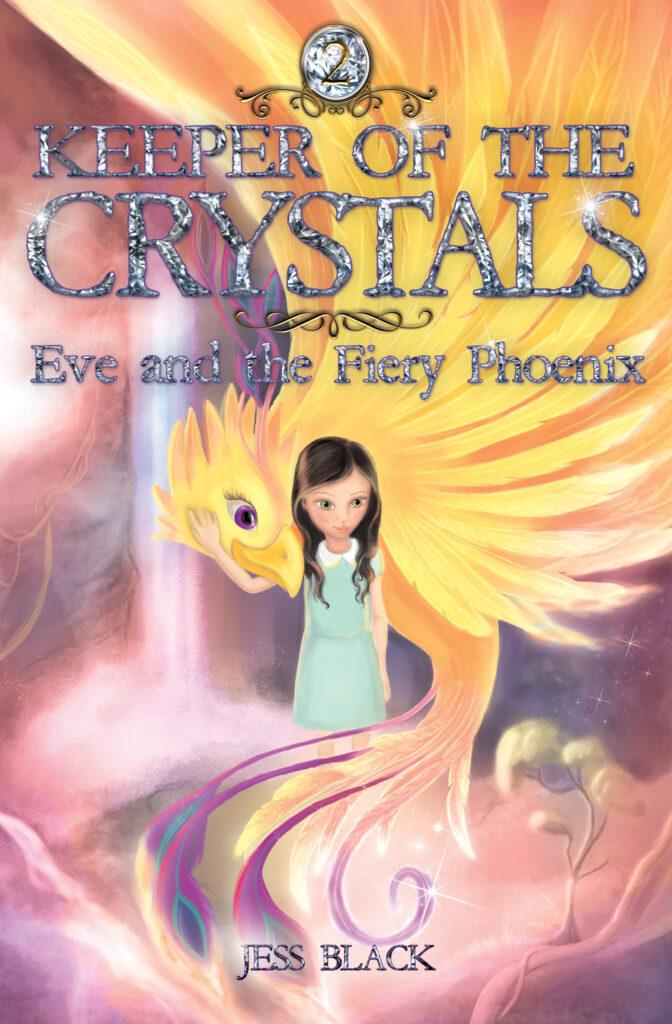 Jess Black (text), Celeste Hulme (illus) Eve and the Fiery Phoenix (Keeper of the Crystals #2) New Frontier Publishing,  6 August 2015,  71pp., $14.99 (pbk.) ISBN 9781925059441
Eve and the Fiery Phoenix is the second title in Jess Black's Keeper of the Crystals series. Like the first book, Eve and the Runaway Unicorn, it takes Eve and her friend Oscar on an adventure to an alternate world, spiced with danger and magic. Avoiding a sudden downpour in the sleepy town where Eve's gran and Oscar both live (and where Eve is visiting for the Easter holidays), the two children find themselves in a curious shop with an 'Odditorium' at the rear of the store. It is here that Eve discovers a small, crystal phoenix, and she and Oscar are once again catapulted into an unknown world, this time landing to the darkened land of Griffid. The human inhabitants of Griffid have failed in their duty to guard the phoenix, the land's sacred fire spirit. The fiery bird has been captured, taking with it the morning song that awakens the sun.
As in book one of Keeper of the Crystals, author Jess Black sends her two main characters into an ecosystem that is struggling to survive after a vital element in its environment is withdrawn. With no sun for two days, Griffid has neither light nor warmth. 'After one week, it will snow and then …' Throughout her narrative, Black stresses human dependence on climate and on balance within the natural world.
While Eve continues her tactical role in solving this adventure series' strategic problems, she is more reliant, in the second book, on Oscar's protection in times of physical danger. When the pair is caught in a raging river, Oscar comes up with a plan that demands physical strength and a terrified Eve is 'glad that Oscar [is]taking charge'.
The third book in the Keeper of the Crystals series, Eve and the Mermaid's Tears, is now available and a fourth is in preparation. Both the publisher site and the series' website offer some activities and teachers' resources.
Suitable for ages 7+
Reviewed by Tessa Wooldridge