Hilary Rogers, Boss Girl (Girltopia #2), Scholastic Australia, March 2019, 192pp., $14.99 (pbk), ISBN 9781742994598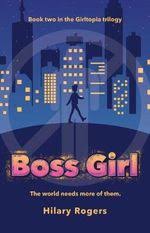 Boss Girl commences four weeks after an outbreak of a mysterious virus affecting all males in Girltopia (formerly known as Melbourne). Clara has shot to fame via Instagram after her bravery in the early days of the crisis, and is showing great initiative starting up an informal nursery and volunteering at the hospital. Although at first glance it may appear unrealistic that 'tweens' would take on that much responsibility in a somewhat dystopian society, it does not come across as forced or unnatural and Clara, Arabella and their friends are endearing and believable characters.
This book has a strong mystery vibe to it, and is well-paced: author Hilary Rogers has come into her stride with Boss Girl, with the pacing issues that detracted from the readability of Girltopia smoothed out in this instalment.
The character development of Clara is impressive – she is significantly more mature and insightful than in Girltopia. Rogers draws clear links between Clara's experiences and subsequent decision making, and there are several concrete examples of Clara's development, such as "Clara had spent all that time worrying about the fact that she was lying to her Mum…and here she was, being lied to herself! Did this make Clara's lies a bit…less bad?" (p. 165).
Clara is less self-doubting and more introspective, particularly in regards to her parents' recent separation. "But now she was starting to think that some sadness would always be there—like a little black box sitting deep inside her." (p. 110). This makes her more likeable and readers will perhaps find her a more empowering role model in this book.
The ongoing tension between Clara and her absent father is engaging, and I am interested to see where that plotline goes as it is left unresolved. This title might be good to kick off a "Girl Power Book Club" (or similar activity) in upper primary as the girl power vibe and issues raised (particularly the use of social media) would be great discussion starters.
Overall, Boss Girl is a stronger novel than Girltopia, and will leaves fans excited for the final instalment.
Reviewed by Jessica Dowling. Read Jessica's review of Girltopia.