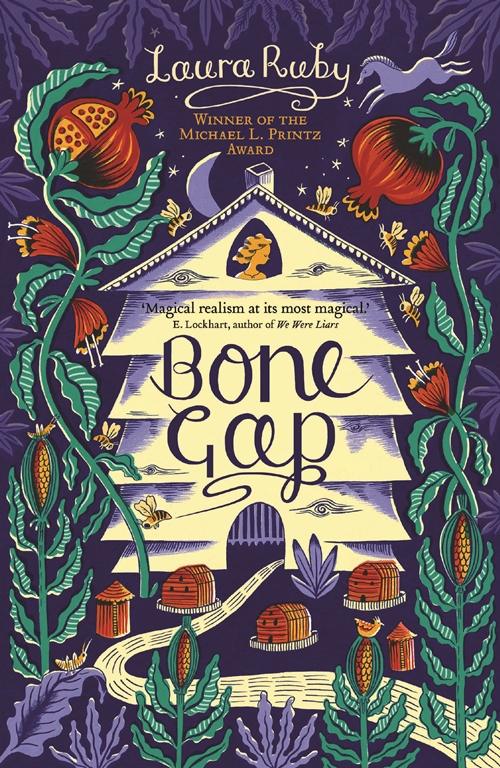 Laura Ruby, Bone Gap, Allen & Unwin,  March 2017, 400pp.,  $19.99 (pbk),  ISBN: 9780571332755
All manner of weird goes down in the bizarrely-named town of Bone Gap: whispering corn, secrets aplenty, spontaneous appearances and disappearances. This unique young adult tale combines magical realism and fairytale elements with themes of social identity, isolation and obsession. Throw in abduction, alternative dimensions and troubled relationships, and it's a wild ride!
The central character, Finn, is viewed by the townspeople as different, but he isn't sure why. Since his mother abandoned him and his 'perfect' older brother Sean, the brothers struggle with their own worth, to make ends meet and with commitment. Enter Rosa, a beautiful, troubled young woman with secrets of her own, desperate to escape the powerful being who pursues her.
The interplay between Sean, Finn and Rosa is one of the books' strongest points, well-crafted and honest. Finn builds a relationship with local girl Petey, who people whisper is ugly and easy.  Their feelings and anxieties are tenderly managed and realistic, despite the magical elements woven through the plot. The mystery around Finn's 'strangeness' is revealed late in the tale, and provides a shrewdly engineered conflict, preying on Petey's fears and Finn's adolescent confusion.
As a fan of magical realism, I was surprised at how the abstract writing style and erratic narrative confused me for the first few chapters. However, once I'd engaged with the style and characters, the story had me hooked. Bone Gap is a unique read, a modern-day fairytale like no other that plays through your mind for days after.
Recommended for teens 14+ due to sexual and violent themes (not graphic).
Reviewed by Georgina Ballantine