Louis Sachar (text) and Tim Heitz (illustrator), Beneath the Cloud of Doom (Wayside School #4), Bloomsbury Children's Books, March 2020, 352 pp., RRP $14.99 (pbk), ISBN 9781526623423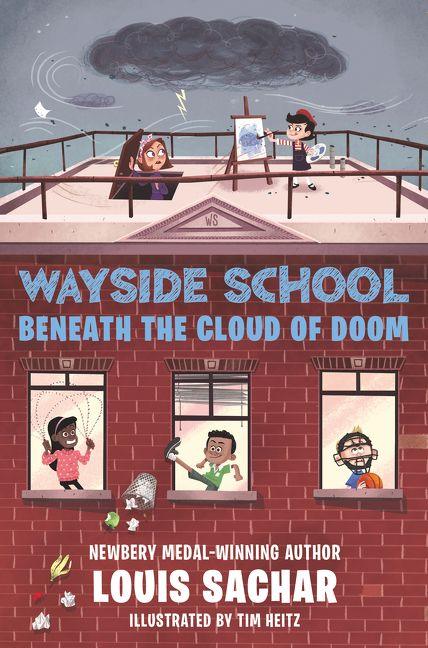 Todd was not having a good day at school. Things were going from bad to worse, and then, Mrs Jewls writes on the blackboard the most horrifying words imaginable:
ULTIMATE TEST TOMORROW!
Mrs Jewls is the kind of teacher that makes you shake with fear (doing nothing for the reputation of us poor teachers, but at least making us look good!) At the start of the year, she hands out ONE, yes one paperclip. Lose it and you'll dare not ask for another.  
The Wayside School is a truly strange school. And it's about to get stranger, and more sinister. The school is being covered by an eerie and menacing CLOUD OF DOOM!
The kids in class are a funny bunch, and there are plenty of sassy lines and conversations by some very eccentric people. As the horrible and terribly tricky spelling bee commences, the children begin to ponder the meaning of life; or school, at least.
"What's the point of reading?" asked Leslie. 
"What's the point of writing?" asked Jason. 
"What's the point of arithmetic?" asked Benjamin.  
To which the irrepressible Mrs Jewls says "…What's the point of quitting?…" 
Well, we couldn't have said it better myself! Expect to say, reading means you can tackle this fantastic book, kids!
Ideal for curious 7-10 years old with a sense of humour and a healthy dash of cynicism. The Cloud of Doom might even be weirder than the year we are having (which makes it a perfect fit)!
Reviewed by Belinda Raposo