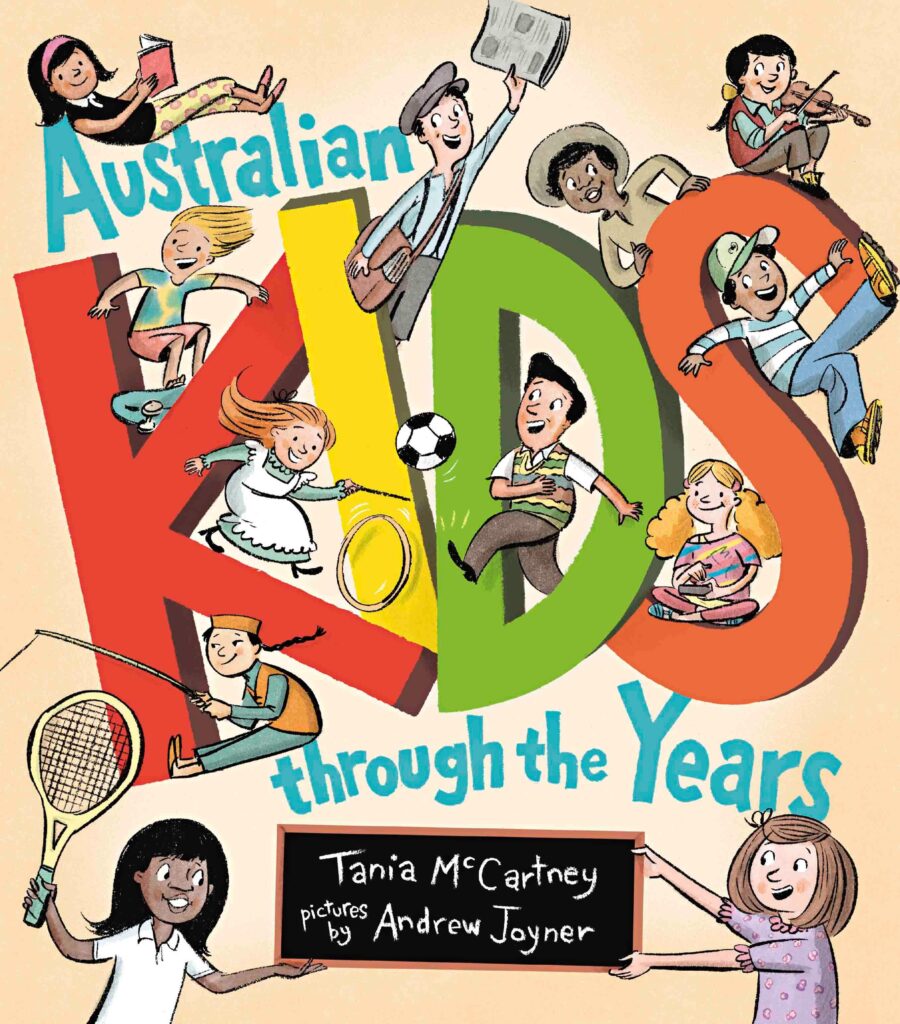 Tania McCartney (text) and Andrew Joyner (illus.) Australian Kids Through the Years, NLA Publishing, 1 October 2015, 56pp., $24.99 (hbk) ISBN 9780642278593
This is a history book. It begins with the first children, who were indigenous, and lived here before European occupation. The full colour, full page illustrations are instructional and informative, with text as labels on the items that, for the first children, were centred round food, ceremony and craft.
After that come the children of the early 1800s who mostly worked on farms, but like the indigenous children also sang songs and did some fishing. The children of the 1850s were slightly more urban, and because of the gold rush they were ethnically mixed. Thus each period is replaced by a succeeding period, with smart and witty references to the times.
I liked the 1950s kids a lot, with their stripes and dots, hoola hoop and yo-yo. It is interesting to see the way toys, accessories and devices begin to cram the illustrations as we come closer to contemporary times. Strangely enough, the children begin to look like versions of their older teenage siblings as they become more modern. This is a book worth talking about, in terms of both the similarities between different historical periods and the influences that shape children differently. It would also be an excellent book for discussing what happens to a culture or a time that is suddenly replaced by 'progress'. In the end, it is diversity that seems to characterise our nation, not progress, and not conformity to a period. An excellent book for children becoming interested in history. Children from 4 to 8 and beyond could enjoy this book as a resource and a talking point.
Reviewed by Kevin Brophy