Tanya McCartney, Australia Illustrated (2nd ed), Exisle Publishing, October 2018, 96 pp., RRP $24.99 (hbk), ISBN
9781925335880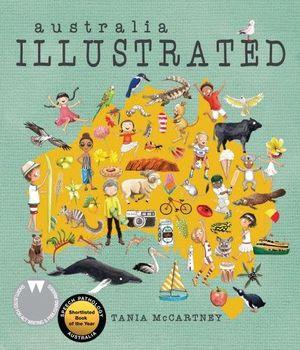 I am so glad this book has found me.
I feel terrible for my kids during the multicultural week at kinder. I feel like I have little to offer them in the way of culture. My kids are from Anglo stock; they are white, blonde, English (only) speaking kids from the Melbourne suburbs, who went to a very ethnically diverse kinder. So when kids came along to kinder in beautifully adorned traditional costume, speaking two or more languages and eating delicious, exotic cuisine, a meat pie and sauce didn't seem very culturally sophisticated.
Australia Illustrated is something all Australian families (and their tourist friends) should have.
Australia Illustrated is a beautifully designed and produced children's nonfiction picture book by the talented Tania McCartney. It shines a light on subjects, places, creatures, people, events and food that make Australia such a wonderful place to live and a fantastic culture to celebrate and be a part of. 
There is so much to look at and appreciate in this book, each page is filled with images and text, and yet it doesn't feel cramped or over the top. She has really gotten the balance just right. It will be engaging for young children and adults alike (my husband got hooked perusing it for 15 mins without any kids around).
The book begins by highlighting the beauty and diversity of Australia. Then there are pages dedicated to common and endangered Australian animals. There are pages about food, both native and iconic. There is a great page with a list of common Aussie slang words with a helpful translation.
The book then contains sections for each state in Australia, featuring things that are unique to that particular region. Each section starts with a depiction of some of the most well-known icons in the capital city. So in Hobart we can see Mount Wellington, Salamanca Place and the Cascade Brewery; and in Melbourne we can see the MCG, Flinders Street Station and the Melbourne Star. The state sections then continue with pages showing an array of subjects that contribute to the identity of the state. For example, in the NSW section we can find pages on the beaches, the snowy mountains and the harbour ferries. And in the South Australia section we get to see depictions of Coober Pedy, the wine regions and the kite festival.
I have really fallen for this book, it is beautifully practical. It gives me a pictorial version of my Australian culture to show and share with my kids.
Reviewed by Cherie Bell