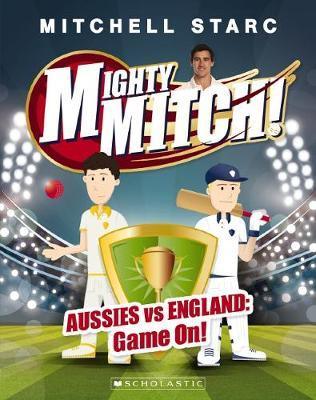 Mitchell Starc (text),  Phillip Bunting (illus.),  Aussies vs England: Game On! (Mighty Mitch #1),  Scholastic Australia, 1 Nov 2017,  144pp.,  $9.99 (pbk),  ISBN: 9781742763194
One of the best things about this book is the strong sense of Mitchell Starc reminiscing about his early days and inspiring younger players to find their own strengths and be guided by their coaches. Phrases like "And that's how my real Test cricket dream began", or the opening scene which describes a desperate push for the final runs needed in an adult test game, and is then revealed as a childhood daydream, give the reader a wonderful insight into Starc now and then, and creates an immediate connection to young players and their dreams of success.
The plot is somewhat predictable; a young team, with some strong players but many misfits, suddenly finds themselves playing a seemingly strong and well-rounded team. They battle self-doubt and nerves but eventually pull through, victorious. It is an oft-told story for a reason – full of emotion, suspense and celebration for the hero in the end.
The illustrations were somewhat of a let-down but have no real impact on the story. Whilst the style is likeable, the fact that there is little difference between the faces of adults and children, and the awkward placement of limbs in 'running' pictures creates a troubling composite of immature yet clean images. It is unclear whether the intention was to sense that a child drew them (in which case they are altogether too neat and clean) or an adult was responsible (in which case the technique is too childish).
Despite this, any budding cricketer is likely to love the inspiring story from one of their idols. Score sheets and stats support the story and provide detail that will sate the 'numbers boys' and the layout of images such as field placement charts on the internal sleeves, and a glossary of cricket terms will boost understanding and support conversation on a level which could be difficult for youngsters to describe.
A great book for cricketing 7 – 12 year olds, male and female alike.
Reviewed by Katie Bingham