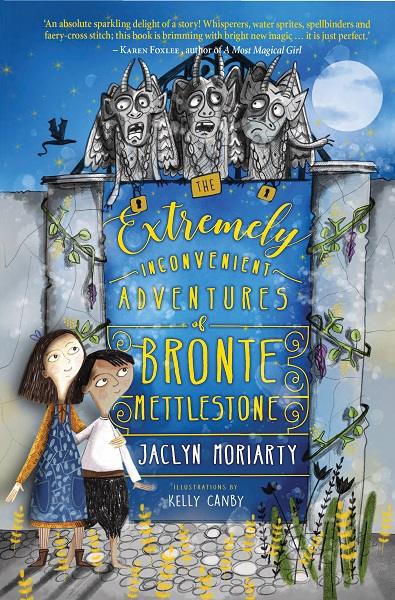 Jaclyn Moriarty (text),  Kelly Canby (illus.),  The Extremely Inconvenient Adventures of Bronte Mettlestone, Allen & Unwin,  Nov 2017, 512pp., $22.99 (hbk),  ISBN: 9781760297176
"I was ten years old when my parents were killed by pirates. This did not bother me as much as you might think – I hardly knew my parents."
But Bronte Mettlestone's parents have left extremely detailed (and bossy) instructions for Bronte in their will.  She is to undertake a great journey, across oceans, kingdoms and empires, visiting her many aunts and delivering gifts.  The trip is fraught with danger and on many occasions it seems Bronte might just give up and go home… will she see her quest through to the end?
I rather think that Bronte Mettlestone is what you would get if Enid Blyton and Lemony Snicket were ever to get together and collaborate on a book.  Cheerfully and playfully written but with a certain wry humour that never fails to delight, this fabulous new work by award-winner Jaclyn Moriarty is a definite page-turner for young and young-at-heart alike.
The book is in the style of a memoir, written by Bronte herself some years after the events she is recounting.  We feel instantly drawn to Bronte – the device of the orphaned child sent to live with her aunt never fails to inspire sympathy, and we want to know what happened to land poor Bronte in this predicament.  And orphaned on account of some pirates, no less!  Why, this must not stand!  We must read on and see if our young heroine prevails!  As I've said before, I love books that start with maps of the lands they are set in, and Bronte Mettlestone is no exception.  The sprawling map of the many kingdoms and empires that Bronte must travel is an ideal overture, giving us a sense of the immense world to be traversed by so young a traveller.
Moriarty weaves a rich tale of adventure set amidst vivid and spellbinding array of backdrops and settings.  Filled with magic, chases, escapes, creatures, faeries, pirates,  queens and kings… it's an utterly delightful story, the kind I dearly wish there were more of in books today. Canby's illustrations perfectly complement Moriarty's writing, giving life to her character creations and setting a perfect mood for the storytelling.
Children as young as 8 would enjoy this book, and I think anywhere up to 14 would also get a kick out of it.  It's pure fun, and all kids who love magical adventures will definitely dig it.
The next instalment, entitled Spindrift, is due out later this year and if it's anything at all like the first volume then I'm looking forward to reading it immensely.
Teachers' Tips can be found on the Allen & Unwin website.
Reviewed by Christian Price