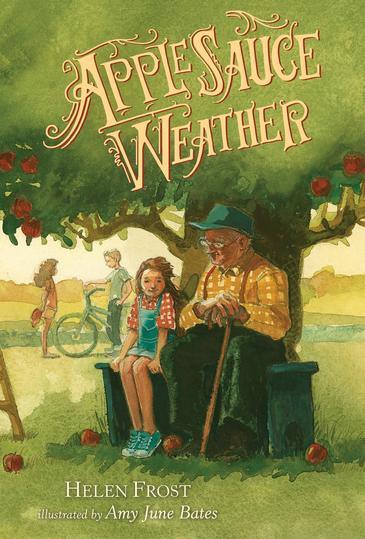 Helen Frost (text),  Amy June Bates (illus.),  Applesauce Weather,  Walker Books Australia,  1 Nov 2016,  112pp.,  $19.99 (hbk),  ISBN: 9780763675769
Applesauce Weather is a quiet story, written in verse, that tells the story of a family coming to terms with death while also celebrating life.
Uncle Arthur and Aunt Lucy always visited Peter and Faith when the first apple fell from the tree. It was time to make applesauce. But this will be the first year without Aunt Lucy so will Uncle Arthur even come? And even if he does, will he still have the heart to weave his tall tales when they ask him how he lost his finger?
This is not the kind of book I would choose to read. If I'm honest, I'm a bit scared of poetry, feeling like I often miss the point or just don't have the patience to winkle out the true meaning. But stories for children told in verse seems to be an increasing trend, and I can see why. Weaving a series of poems into a story makes the poetry more accessible and is a great way for kids (and certain poetry shy adults) to enjoy poetry.
Told from the points of view of Peter, Faith and Arthur, you get a real sense of each character through their poems as the story comes together. The sections headed 'Lucy's song' also unravel the story of her life with Uncle Arthur, which adds to the concept of things repeating and the circle of life.
This book is a great bed time or classroom read because the poems are short and so provide easy stopping and starting points. Also, the full effect of the poems' cadence and rhythm is realised when they are read out loud.
Children will get a lot out of this book — the mystery around Uncle Arthur's missing finger, the passing and looping of time and the different way people react after death. I found myself easily drawn in and then quietly satisfied by the end.
The black and white illustrations by Amy June Bates give the book a sense of timelessness and its beautiful presentation make it special as well as a perfect, collectable gift.
Applesauce Weather is a lovely story filled with emotion and meaning and conveyed beautifully through verse.
Reviewed by Renee Mihulka