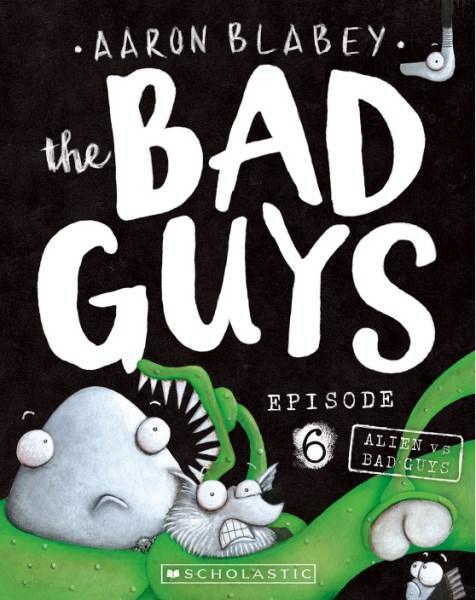 Aaron Blabey, Alien vs Bad Guys (The Bad Guys #6, Scholastic Australia, 1 Oct 2017, 144pp., $14.99 (pbk), ISBN: 9781760279486 
What can a wolf, a shark, a piranha, a spider and a snake do when they find themselves in outer space being chased by an alien called Marmalade? Of course they can do what any bad guys turned good guys who plan to save the world would do, get the hell out of there. In Blabey's most recent Bad Guys episode the usual gang find themselves confronted by a terrifying alien with way too many eyes and bums. They must work together if they are going to survive but wait a minute, is snake going to desert them and slither away through the escape pod?
The character's 'wise-guy' way of relating and Blabey's humorous graphic images not to mention the occasional suggestion of bums and farts and snot belie a greater depth to these characters which Blabey lightly explores.
Originally an actor turned writer and illustrator of children's books, Blabely has won a swag of awards for his Bad Guys series. A romp of a read. Highly recommended for readers 7+.
Reviewed by Mem Capp