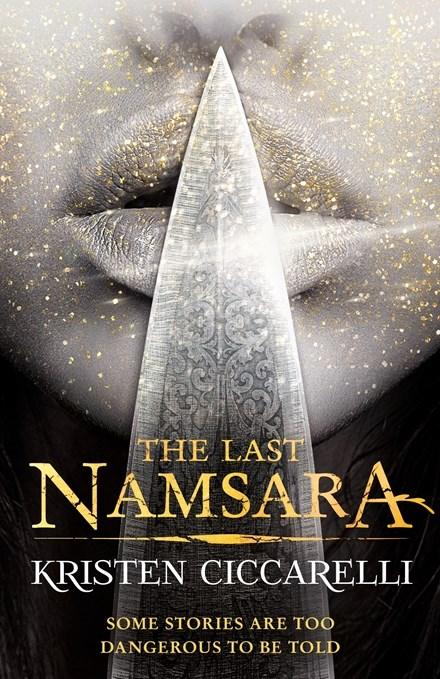 Kristen Ciccarelli, The Last Namsara (Iskari #1),  Hachette Australia, 3 Oct 2017, 304pp.,  $19.99 (pbk),  ISBN: 9781473218130
Destroyer. Death-bringer. Dragon-slayer. I am more weapon than girl.
Asha is a dragon-slayer, killing to atone for a wicked deed in her past.  She is also the daughter of the king of Firgaard, of noble blood and betrothed to a cruel commandant in her father's military.  To fulfil her destiny she must embark on the greatest hunt of her life, or be forever enslaved.  But what she finds in the wilds of the Rift is much more deadly than dragons…
Straight up, I loved this book.  I was intrigued the moment I saw the cover and when I picked it up to read it, I devoured it in a couple of days.  Ciccarelli has done something truly special with Namsara – it's a thoroughly gripping tale, full of action and intrigue, magic and adventure… it's beautifully written, its world impeccably imagined and rendered… really, I just don't have enough good things to say about it.
Written in the third person (but very much from the main protagonist's perspective), we join Asha right at the critical moment of a dragon hunt, and we are instantly joined to her quest.  She's a warrior poet, scarred by her experiences but she is also the forger of her own destiny.  We never question that – through all her trials and adversity, even when it seems that all hope is lost, we always believe that Asha will find a way to turn the situation around, make the wrong things right.
Asha is a complex character and Ciccarelli has done an amazing job at giving her the full gamut of thoughts, feelings, hopes, desires and ambitions.
The book is interspersed with stories from the mythology of the land of Firgaard, and these serve to punctuate the various plot points within the narrative.  They've been deftly crafted and help to form the rich tapestry of the world that Ciccarelli has woven before our eyes.  I loved the depth they gave to the history of Asha's world, how they fleshed out the stories which become such an integral part of her tale.
For anyone who likes stories with strong female leads who have minds and wills of their own, this is for you.  Probably best suited to the age 15 and above bracket (there's a certain amount of violence in the story), it's empowering, moving and poignant.  It calls back to a long past era, but remains firmly relevant to the times we live in.  It's my hope that Ciccarelli will gift us with more stories and adventures in Firgaard with Asha and her friends.
Reviewed by Christian Price