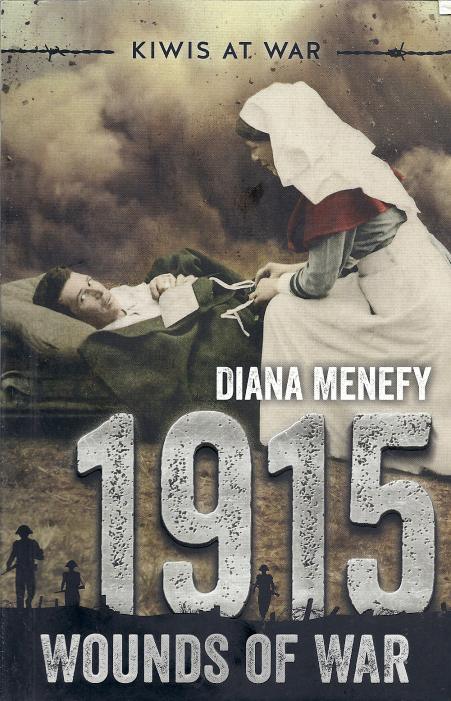 Diana Menefy, 1915: Wounds of War (Kiwis at War #2),  Scholastic (NZ), 1 April 2015,  296pp.,  $AU17.50/$NZ16.95,  ISBN 978-1-77543-274-6
Part of an annual series written by different authors to commemorate an aspect of World War One for each year (starting with Susan Brockley's  1914: Riding into War), 1915 Wounds of War tells a little known story of those female nurses from New Zealand who volunteered to serve overseas. This realistic version is told through the eyes of two cousins, Harriet and Mel, who both negotiate the loss of loved ones as well as the harsh realities of being on a hospital ship in the Gallipoli campaign and serving on land hospitals in various ports of the Mediterranean/Red Sea coastline.
There are boys-own adventure characters who sign up for a big adventure only to lose limbs and struggle with memories of the wounded and dying as well as the innocent nurses who are overwhelmed with the stench and decay of broken bodies. Yet it is family that helps Harriet and Mel cope, even when they lose loved-ones.
There are times of enjoyment as the exotic is experienced in Colombo and Cairo coupled with the possibilities of romance, as to be expected. What is most curious, given the recent "celebration" of the ANZAC debacle at Gallipoli (a debacle that this faction fully acknowledges) is the resonance across time of how Australia and New Zealand speak of these events!
In the last chapter, there is a stark contrast in how the commemoration was perceived in terms of national identity on the first anniversary of the retreat from Gallipoli. The Australian Prime Minster speaks of how "the citizens of the Empire have been proud to call them kinsmen, but to us who know and love them, who can claim them as sons and brothers, their glorious valour has opened the gates of a new world. Those glorious dead to whom…" Harriet responds to this idea of the glorious dead with great emotion thinking of "Those poor boys, all shot up and mangled, rotting into the ground, flyblown, swollen black. There's nothing glorious about their death." Mel reaches out to her cousin. Then the NZ prime minister's cable is read out which includes the statement "ANZAC Day will never be forgotten, but we look forward with full confidence to the dawn of another brighter day which shall crown with success the work begun upon that day twelve months ago." Harriet and Mel exchange looks as Harriet thinks "That was more like it [the reality]." The resonance with the celebration in 2015 is extraordinary as the difference between Australian and NZ evocation of the event was noted by the media.
The author has gone to great troubles in terms of researching this aspect of the war as revealed in the substantial bibliography on pp. 290-292. This faction story is important for us all to read. For me, it makes real the commemoration of the death of a local nurse who went off to WWI from what would have been a remote part of New Zealand, etched on a wooden plaque in our local church in Wainui. Teacher notes are available on the Scholastic NZ website.  Highly recommended.
reviewed by John McKenzie