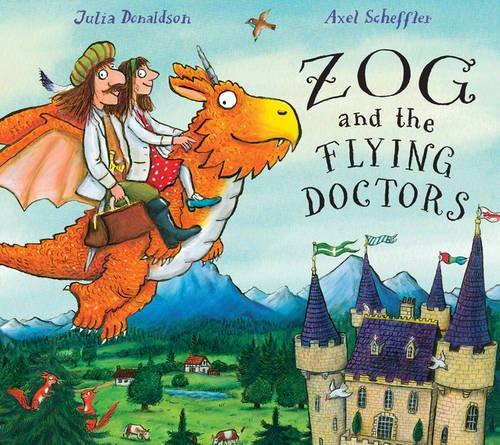 Julia Donaldson (text), Axel Scheffler (illus.), Zog and the Flying Doctors,  Scholastic Australia,  1 Oct 2016,  32pp.,  $24.99 (hbk),  ISBN:  9781407164953
Fans of Julia Donaldson's The Gruffalo and the original Zog will be delighted by this next instalment. Donaldson has given us another chapter in the life of the clumsy, but lovable dragon. He now rides as part of a team of flying doctors, helping those most in need across the land. They tend to a sunburnt mermaid, a unicorn with an unwanted extra horn and a mighty lion suffering from the flu. Princess Pearl and Gadabout the Great are skillful and compassionate healers. But when the team visits Pearl's uncle, the king, things go awry. He doesn't believe that princesses can be doctors, and locks Pearl away in tower. While Zog and Gadabout try to rescue her, ultimately it is the princess who finds a way to free herself.
Donaldson's rhymes are so effortless and natural, it is a pleasure to read this book out loud. The language is accessible without ever being patronising or simplistic. The story is reminiscent of Babette Cole, or even Jon Scieszka, in its clever subversion of fairytale tropes. Princess Pearl is no damsel in distress, rather a princess with a vocation to help others. She is the one who can solve the problem of being locked up, she is powerful and smart and part of a strong team.
Scheffler's illustrations are cartoony and comical, lending extra layers of humour and charm to the story. Zog's face after each landing would make any reader giggle. The characters are drawn with plentiful personality, each expression as lively as the next.
Zog and the Flying Doctors could be used to discuss the place of princesses, and by extension, of female characters in fairytales. The agency and motivations of Pearl could be compared to those of Sleeping Beauty or Snow White. Teachers and students could also research the real Royal Flying Doctor Service and discuss the need for such services in remote areas. Students could create their own fairytale creatures suffering from injuries or illnesses, for whom the Flying Doctors could administer first aid.
Reviewed by Madeleine Crofts