Gabrielle Wang,
Zadie Ma and the Dog Who Chased the Moon
, Puffin Books, May 2022, 272 pp., RRP $16.99 (pbk), ISBN
9781761046513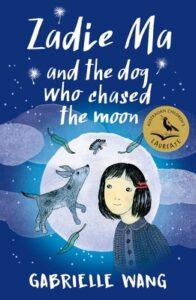 I could write this review in four words: I love this book. Make that six – I love everything about this book.  
Longing for a dog of her own, shy Zadie writes a story about a pooch called Jupiter who's just waiting to be rescued. Her younger brother Teddy is excited because Zadie has a knack for writing stories that come true. Set in 1950s Melbourne, the book delicately explores complex themes including friendship, war, Chinese culture, racism, hope, courage, and connectedness. But above all, Zadie Ma and the Dog Who Chased the Moon is a story about empathy and belonging. The book's structure and style are both unique and refreshing, weaving narrative, allegory (in the form of Zadie's own stories interspersed throughout) and graphic novel elements.  
Wang describes the middle grade book as a "love letter" to her first dog, Rusty and "a very personal story that I've carried with me all my life, well before I knew I would be an author." And it shows. There is something magical about a book that transports readers to another time, another world, inside another person's head and culture. Pages that we devour and simply can't get enough of. Zadie Ma and the Dog Who Chased the Moon is one of these books.  
A gift of a story for readers age 8+ from Australia's Children's Laureate for 2022/23. Extensive Teachers Notes are available from the publisher's website.
Highly recommended. 
Reviewed by Maura Pierlot