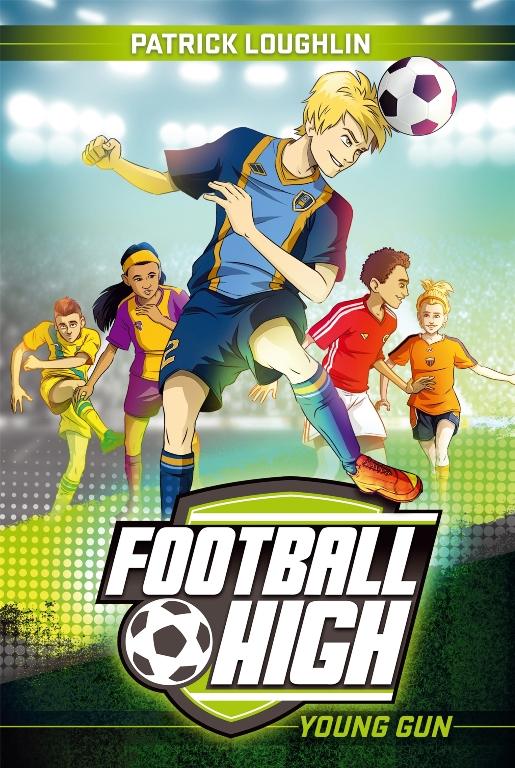 Patrick Loughlin,  Young Gun (Football High #1), Random House Australia, 30 May 2016, 192pp.,  $14.99 (pbk),  ISBN: 9781925324501
Just when I thought there wasn't room in the Australian publishing industry for another children's football series, I receive Young Gun, the first book in new sports series Football High.
Nick Young is a football enthusiast about to start high school. He dreams of following in the footsteps of his famous father, Arsenal player Shane Young, to become a great soccer player.  His dreams start to come to fruition when he wins a scholarship to the prestigious National School of Football where there is a focus on training the next generation of great football players.
The book contains much description of soccer moves, strategies and game plays.  But there is also the back story of new friendships, conflicts with class mates, feelings of awkwardness around a beautiful girl in his class and the unpleasantness of constantly being compared to his father with whom he hasn't had any contact since he was a baby.  In order to maintain his scholarship he must perform well enough in the academic subjects and keep up with the other talented young football players on the field.  But most importantly, can he make it into the NSF rep squad?  And will he survive first term of Year 7 at Football High?
There is plenty of soccer action to keep the young soccer fan interested.  The plot is also driven by concern for Young to succeed and overcome his difficulties. The characters of Young and his class mates are well developed and their interactions seem genuine and believable.  Much of the story interest centres around football games, making the story relevant specifically to 10-13 year olds who know and enjoy the game.
Reviewed by Barbara Swartz