Yeva Skalietska, You Don't Know What War Is, Bloomsbury, November 2022, 240 pp., RRP $19.99 (pbk), ISBN 9781526659934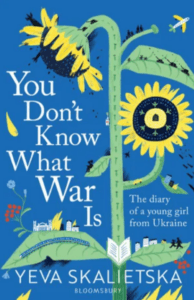 ​​On the 24th of February 2022, Yeva Skalietska's life changed forever. Just the week before Russia invaded Ukraine, 12 year old Yeva was celebrating her birthday in Kharviv with her friends and family. But with the sudden onslaught of bombs and missiles, Yeva's world, among many, was tragically transformed.
You Don't Know What War Is is the real, heartfelt diary of a 12 year old Ukrainian girl. Yeva authentically recounts her experience of the first few days of the Russia/Ukraine war and her journey alongside her Granny as they escape to safety. Together they desperately face the challenges of living communally in their apartment basement, discovering their kitchen destroyed by a missile, and waking up afraid, uncertain of what terrors the day would bring.
Preceding each diary entry are headlines from major news sources to provide readers with essential context. Reading this, I was reminded of seeing the same headlines in 2022 and the feelings of anger, fear and despair that gripped the whole world. The memoir also included touching images of Yeva and her ever-changing situation, which made Yeva's story even more real and heart-breaking for me to read. Excerpts of WhatsApp messages between Yeva and her friends established the absolute fear these children experienced.
The diary concludes with short entries from Yeva's friends, sharing their diverse experiences of war. I found this addition to be exceptional in that the voices of Ukrainian children were heard, and readers could discover that war is different for everyone.
From the eyes of innocent Yeva, this short yet poignant memoir will be suitable for children from 10 years and up.
Reviewed by Olivia Sammut