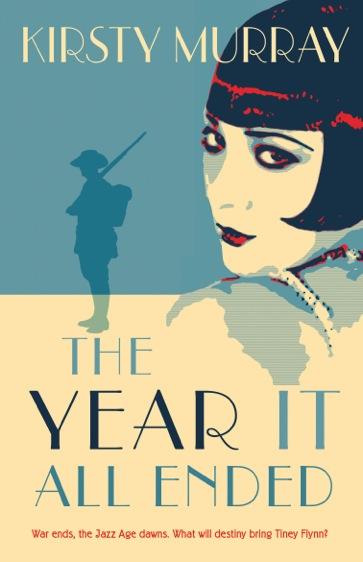 MURRAY, Kirsty The Year It All Ended Allen & Unwin, 2014 242pp $16.99 pbk ISBN 9781743319413 SCIS 1675365
The novel opens in 1912, when her brother, Louis, and cousin, Will, take Tiney Flynn swimming at Glenelg.  Their grandfather was German, and that language is still familiar to them.  But Tiney's innocent joy comes to an end two years later, when Louis joins up, and Will goes to Germany, to fight on the other side.  Some of her family are interned because of their German origins.  We learn little about the boys' experiences, because this is not a novel about the fighting, but how the war was felt in Australia: the anger for injustice, the grief for lost sons and brothers, the lasting trauma returning soldiers experienced, and the terrible inability to accustom oneself to ordinary life when tragedy has struck.  It becomes a saga set around the family Flynn, with Tiney at the centre, although Nette, Minna and Thea, her sisters, each have a part to play: Nette's husband is troubled, Thea is a gifted artist, Minna's has to escape her fate.  After the war life really begins for these girls.
It is a long book, and has a slow beginning, but gathers pace and strength as Tiney matures.  She begins to think outside the narrow confines of her family, meets the opposite sex, cares for her father during the Spanish Influenza epidemic, and travels abroad.  Tiney visits the battered and hungry cities of London, Paris and Berlin, Villers-Bretonneux and the sites of war graves in France and Germany.  She meets good people who help her, lives in seedy accommodation throughout Europe, and eventually finds some peace within herself.
Murray has the gift of telling a compelling story.  Some of her characters are shadowy, but we are drawn on by events, and the strength of Tiney's characterisation.  The writer can touch emotions through her empathetic understanding of pleasure and pain, and her young readers will appreciate the romantic conclusion.
Notes for Teachers are available on the publisher's website.
reviewed by Stella Lees