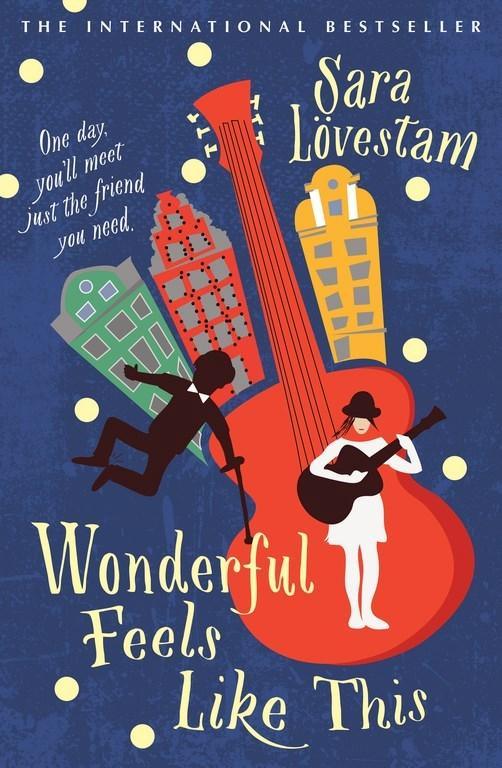 Sara Lovestam, (English translation by Laura Wideburg), Wonderful Feels Like This, Allen & Unwin, 29 March 2017,  306pp., $29.99 (pbk), ISBN: 9781760292065
Translated from Swedish, Wonderful Feels Like This is a 'slice of life' young adult read.  The protagonist, Steffi, is a teenage girl, feeling stuck and lonely in her small town in Sweden, where she feels she doesn't fit in. Her life at school, being bullied and viciously teased, is made bearable by her growing friendship with Alvar, a 90 year old jazz musician, with whom she shares her love of music, and her desire to escape through music to a better place.
The story seamlessly moves between current day and the 1940's, as Alvar relates his experiences of being a teenager, involved in the jazz music scene in Stockholm during World War Two. Through this unconventional friendship, Steffi grows to realise that she too will one day escape her narrow, unhappy existence, and perhaps pursue her dream of studying music in Stockholm.
This title will divide readers. Some will love the quirky, choppy style of writing, and the honest depiction of teenage life, while others will find the swift transitions from Steffi's existence in the present day to Alvar's reflections of sixty years past to be disruptive and confusing. The general tone of the book is sweet, optimistic and uplifting, however it does deal with some fairly heavy topics, such as quite strong bullying, sexual abuse within families and teenage sexuality. Readers should also be aware that although there is not a great deal of swearing, extremely bad language is used on a couple of occasions. I am unsure if this is a translation issue, as the tone does not match the use of this word in each case. (Just a warning!).
While many young adult books deal with similar issues, Wonderful Feels Like This sits apart, partly because of the strong jazz music theme that connects the characters, and partly because of the influence of Swedish history and culture which shapes the story telling. Strong readers from Year 9, as well as students in Years 10 and 11 will either love this book or just won't be able to 'get into it'. While slow going at first, persistence pays off with a rewarding and refreshing narrative which, like Steffi, is just a little bit different from the rest.
Reviewed by Kay Oddone