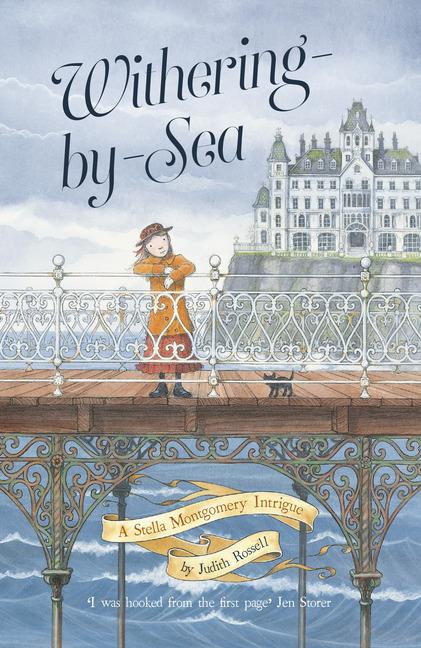 ROSSELL, Judith Withering-By-Sea: A Stella Montgomery Intrigue ABC, 2014 259pp $19.99 ISBN 9780733333002 SCIS 1688798
Who doesn't love a story about a 19th Century orphan of secret past and mysterious parentage?  This latest novel from Rossell doesn't disappoint.  Stella Montgomery is eleven years old and lives with her three aunts, moving from hotel to resort spa as the aunts try to improve their failing health.  Currently they are living in the Hotel Majestic in Withering-By-Sea.  It's there that Stella becomes entangled in adventure and intrigue, and a little bit of magic…
This is a beautifully produced book – hardback, thick paper and a ribbon bookmark.  It's a pleasure to hold and read.  The illustrations are monochrome and fit the story perfectly – as you'd expect – they were drawn by the author.  The story hooks the reader in right from the start, with not only the main plot but also the mystery surrounding Stella herself drawing them in.  It rolls along at a fine pace with plenty of tension and excitement.  Not everything is resolved at the end of the book, leaving the readers eager for the second installment.
The cover artwork may appeal more to girls than to boys, but the story itself will appeal to both.  This book would do well in a primary school or public library.  Recommended.
A Teaching Guide can be found on the HarperCollins website.
reviewed by Rebecca Kemble