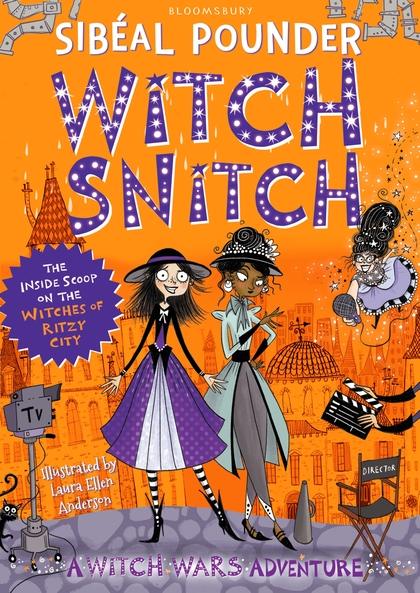 Sibeal Pounder (text),  Laura Ellen Anderson (illus.),  Witch Snitch: the inside scoop on the witches of Ritzy City, Bloomsbury,  1 Dec 2017, 272pp.,  $12.99 (pbk),  ISBN:  9781408892046
If ever a book could be described as 'delightful' I think this is it. And laugh-out-loud funny!
Given that this is a companion book to the Witch Wars series, it quickly becomes evident that there are things readers will have missed out on.  As readers dive into it, I think they'll find themselves itching to go back and figure out how Tiga came to Sinkville, and how she found her friends and was selected as co-presenter of a Witchoween documentary.
While Witchoween might have an obvious basis in Halloween, it is a celebration of witches and can happen at any time. The Witchoween documentary features five interesting witches, with Tiga and Fran, the Fairy, co-presenting the documentary.
From what I can gather, Tiga is the reader's view into this world as she's only recently learned (compared to everyone else) she's a witch. As the series progresses, and readers discover more about this world, so does Tiga. Tiga is a strong character with her own ideas, but still eager to learn about her new world.
Pounder writes strong friendships that will have new readers keen to explore earlier books in the series for all the background to them.  Her dialogue is funny, fast-paced and incredibly creative as she transplants familiar things into Tiga's new world.
As Witchoween is a celebration of all witches, I loved learning about five very fun, weird and diverse witches. In each Witchoween meeting Tiga lists five things no one knows about each witch, plus some interesting titbits you would not expect; like how to write a song for your party. Witch Snitch encourages creativity and a little bit of silliness, which is always necessary I think!
Last, I need to point out the absolute fun that is the illustrations by Anderson! Each female character is drawn wildly different, and every single one brought a smile to my face!
In the end there's a wonderful surprise for Tiga and readers that emphasises the power of female friendships – which are at the heart of this book.
Reviewed by Verushka Byrow