Larry Brandy, Wiradjuri Country, National Library of Australia, November 2021, 97 pp., RRP $24.99 (pbk), ISBN 9780642279866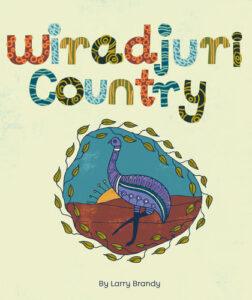 This fun and funky-looking book teaches readers — young and old — about Wiradjuri Country in central New South Wales. Uncle Larry Brandy, a Wiradjuri author and storyteller, describes his country through language, Indigenous history, information about nature, and stories.
The book is full of bright, lively illustrations, photos and graphics and can be enjoyed as a whole or dipped in and out of. I love the way it weaves elements of language, culture, and ways of knowing together seamlessly. There are interesting facts about animals and plants as well as explanations of their significance to Wiradjuri people and traditional stories about them. Historical uses of natural resources are explained, as well as insights into how traditional practices continue in the modern world.
This is a terrific resource for learning about Country, culture, and conservation. I can definitely think of ways to use it in my classroom. I would love to see it developed into a series so I can have one about Wurundjeri Country, where I live!
Reviewed by Liz Patterson