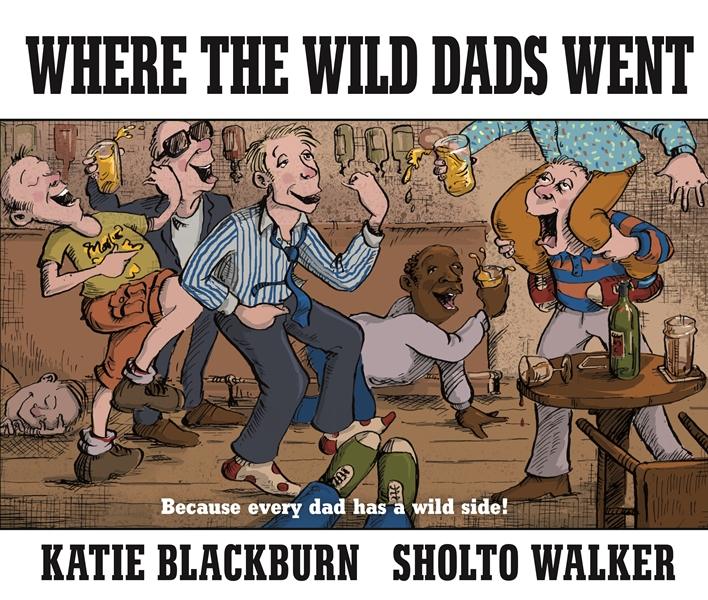 Katie Blackburn (text), Sholto Walker (illus), Where The Wild Dads Went,  Faber/Allen & Unwin,  28 June 2017,  32pp.,  $19.99 (pbk),  ISBN 9780571332113
Dad has a few too many after-work drinks, forgets the milk, trips over the rubbish and arrives home to find mum suitably disgruntled. As Dad skulks on the sofa, the lounge room transforms into a jungle and dad Tarzans across the vines to a pub where other rowdy dads raise their manly drinks and crown him King of the Wild Dads. A raucous rumpus ensues with much drunken antics, air guitar and karaoke. Feeling suddenly tired and emotional, Dad longs to be back home, so after sobbing manly tears and hugging manfully, he finds himself back on the lounge where mum has covered him with a blanket and made him a cup of tea.
This book is a sequel to Blackburn's Where the Wild Mums Are and parodies the Sendak classic, Where the Wild Things Are. The tongue-in-cheek humour plays on stereotypes and should be taken lightly. It is definitely not a book for children as it normalises binge drinking, however could be used for older students when discussing parody, stereotypes and social norms. It is designed as a gift book and would possibly appeal to fathers with a wild side who remember the original story.
Reviewed by Sharon Seymour