Maura Pierlot (text) and Triandhika Anjani (illustrator), What will YOU make today? Storytorch, June 2023, 32 pp., RRP $27.99 (hbk), ISBN 9780645191578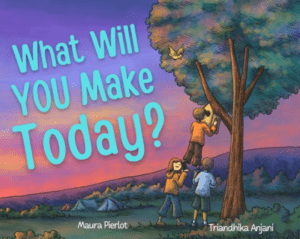 From the title of this book, the reader may think that this volume is all about making things – but it is so much more than that. The text begins with In a world where anything's possible … what will you make today? The story that is told in the pictures follows a group of children camping out in tents, no adults to be seen. Common phrases using the word 'make' then follow.
Practical activities such as Will you make your bed? and Will you make your breakfast? are followed by abstract concepts such as Will you make believe?, Will you make friends? and Will you make a decision? Meanwhile, the illustrations show the development of the relationships between the group of campers and their discoveries in the surrounding area and collaborative efforts to make changes. The endpapers also are different revealing the campsite before and after their activities.
This is an unusual and thought-provoking book. It can be read straight through as a story by following the beautifully coloured illustrations but that would be wasting its strengths. This book would make a wonderful conversation starter and brainstorming activity by taking the time to savour each double-page spread and pondering the many answers to the questions posed.
Reviewed by Lynne Babbage