Ashleigh Barton (text) and Martina Heiduczek (illustrator), What Do You Call Your Grandma? ABC Books, March 2021, 32pp, RRP $17.99 (hbk) ISBN 978073334084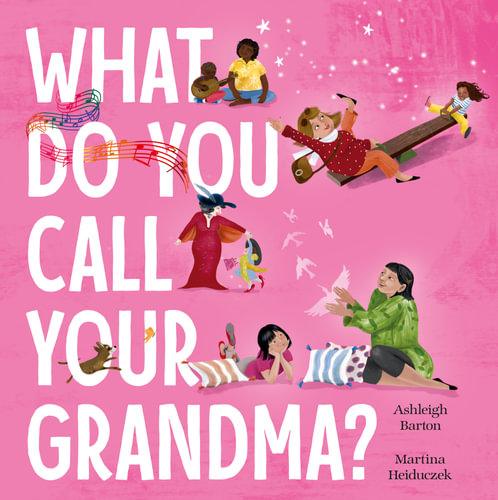 What Do You Call Your Grandma? follows author Ashleigh Barton's debut book What Do You Call Your Grandpa? which came out in August 2020 and made it onto the Notables list for the CBCA Book of the Year Awards. 
In every country around the world are grandmas short and tall.
Though they go by different names, we love them one and all.
A Granny here, a Nanna there – or maybe she's a Nan?
Turn the page, let's meet a few of the finest in the land…
From Francesca's Nonna to Bingwen's Nai Nai, this heart-warming picture book celebrates the wonder of Grandmas all over the world.
In each beautifully illustrated double page spread, the everyday activities of grandma and grandchild are showcased in exquisite detail against a diverse backdrop of world-wide settings. Akash calls his grandma 'Nani' and together they wind the yarn for her latest knit; Liam sings with his 'Jaja' as she hangs washing on the line; Dali settles down for a story with his 'Makhulu'; whilst Aaliyah writes letters back to her 'Teta', who lives many miles away.
Young readers will adore the simple rhyming text and peeking into the homes of grandmas from Iceland to New Zealand. There are so many different elements for readers to explore; the outside scenery, styles of dress, items kept in the home and the way we spend our family time. My own children were fascinated by this book and have read it on repeat.
Celebrating cultural diversity, individuality, family and love, this inclusive picture book is a delightful title for grandparents to share with young children. As well as being a real joy to read, the final question in the text 'What do you call your grandma?' and the 'Where in the world is that grandma from?' information page at the end of the book makes this title a great resource to share in our culturally diverse classrooms.
Reviewed by Lisa Hoad