Renee Peters (text) and Andrew McIntosh (illustrator), The Quirky Smelling Lunch Box, Little Steps Publishing, March 2021, 32 pp., RRP $16.95 (pbk), ISBN 9781925839968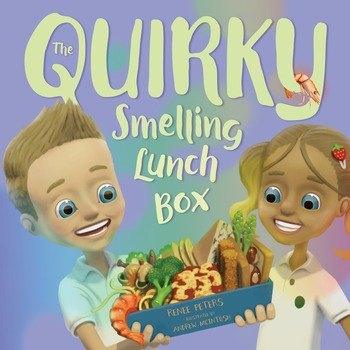 The Quirky Smelling Lunch Box is a picture book story about Dylan who enjoys the variety of unusual meals that his mother painstakingly prepares for his school lunch each day. On one day he finds prawn salad in his lunch box, and on another a platter of snail and cheese – just to name a few. Tiana, who has boring butter sandwiches every day, is fascinated. But not so the other kids who rudely express disgust at the smells of garlic, durian fruit, anchovies or blue cheese that waft out of Dylan's lunchbox. In the end, the two friends have a good laugh when Tiana meets Dylan's challenge to bring a stranger lunch to school than his.
This is a lovely story about friendship, acceptance and having the confidence to be different. The text flows in a satisfying way with a predictable, repeated pattern and dialogue that sounds natural for kids.
The brightly coloured computer-generated images of the school playground and wide-eyed kids with animated expressions add to the character and plot development and the general quirky tone. The images have an "other worldly" feel of computer game graphics, which is appealing. I also enjoyed the endpapers with a pattern of culinary items from Dylan's lunch box.
I recommend this picture book for 5–7 year olds, especially as a starting point for discussions about acceptance and respect for culinary or other cultural difference.
Reviewed by Barbara Swartz