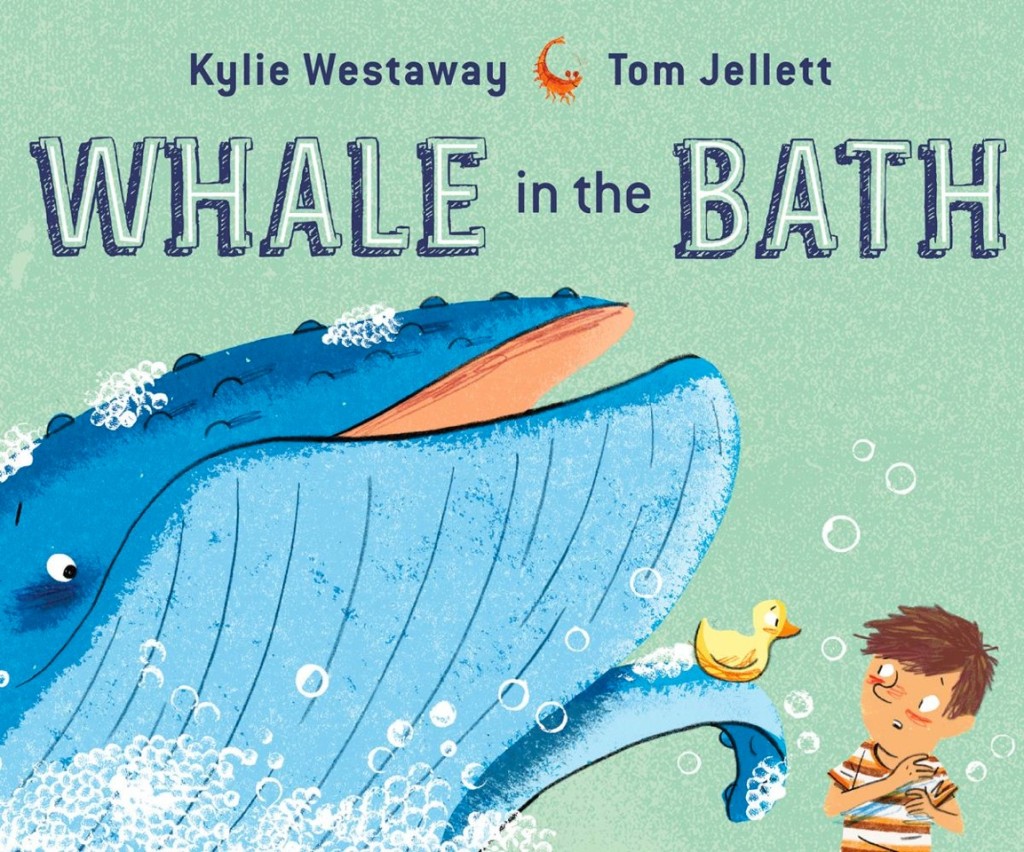 WESTAWAY, Kylie (text) Tom Jellett (illus.) Whale in the Bath Allen & Unwin, 2014 unpaged $19.99 ISBN 9781743318584 SCIS 1675812
Bath time can be dramatic, but when young Bruno finds a whale in the bath, drama turns to turmoil.  His sister, mother and father won't believe him when he protests that he cannot take his bath due to the whale, especially as he had previously seen a bear under his bed and a walrus in the backyard.  Despite Bruno's protestations that he must get out of the bath, the unconcerned whale is more interested in finding krill-smelling bubble bath or scrubbing his flippers than accommodating Bruno's demands.  Ultimately they find a solution with the whale using its powerful spout to give Bruno a rather fishy-smelling shower.
Whale in the Bath is a fun-filled book that 3-6 year olds will enjoy reading aloud with an adult.  Changes in font and text size give emphasis to important words in the story while the blocks of text are often contoured around the lively illustrations to give an interesting and attractive appearance to the page.  Double page spreads and changes in perspective create a sense of the size of the whale, although we never see it in its entirety allowing the reader to imagine its enormous bulk.  The use of a first person narrator draws the young reader into the fun of this imaginative and charming tale.  Any child who resents bath time or has ever been disbelieved, will identify with Bruno and delight in the chaos that a whale in a bath can create.
reviewed by John Nolan