Sue deGennaro, We're Stuck! Scholastic Australia, April 2019, 32 pp., RRP $24.99, ISBN 9781760663476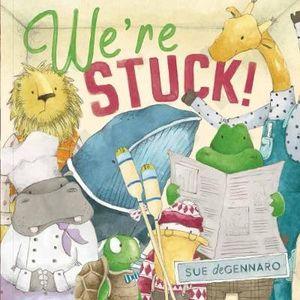 We're Stuck! is a heartfelt picture book about connection, friendship and belonging from author- illustrator Sue deGennaro.
Turtle lives in a busy inner city apartment block where nobody has time for anything but a nod or a blink as they step aside to make room in the lift. Then one day the lift gets stuck. Soon everyone is busy complaining about being late for work or missing their appointments. But when Turtle bursts into tears because it's his birthday, everyone pulls together to try and cheer him up. Balloons are quickly fashioned from rubber gloves, newspaper pages suddenly become party hats and luckily Pelican has a cupcake in his lunchbox that he is willing to share. By the time the firemen arrive to rescue them everyone is having a wonderful time. It goes without saying that life in Turtle's apartment block will never be the same again.
The lift of an apartment block will be a familiar setting for city kids and a novelty for those who live in less densely populated or rural areas. But all children–and adults– will appreciate the idea of taking a break from the hustle and bustle of our day to connect with those around us.
This book could be used to prompt all kinds of interesting discussions both in the classroom and at home. For younger children it might lead to talk of where they live and who their neighbours are, or perhaps their most memorable birthday. For older children it could stimulate discussion of friendship, belonging, and what makes a community.
Children of all ages will enjoy the endearing illustrations of animal characters in their work attire, and trying to figure out which job each character does.
We're Stuck! will make a beautiful addition to any classroom, public or home library.
For ages 3+.
Reviewed by Deb Kelly