Phil Cummings (text), and Andrew McLean (illustrator), Through the Smoke, Scholastic Australia, February 2019, 32 pp., RRP $24.99 (hbk), ISBN 9781760274702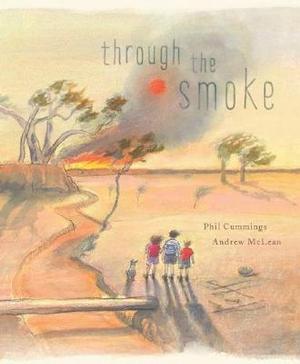 Through the Smoke should be essential reading for all early and young readers in Australia. Three young children head out on an adventure, their imaginations leading the way as they seek and search for places to hide and explore. Soon though, a looming bushfire becomes more of a threat than they expected. As they imagine a giant fire-breathing dragon filling the sky with smoke, it becomes clear they are no longer safe.
The innocent escapades of young children in the bush, juxtaposed with the very real threat of fire is a wonderful tool for bringing the realities of natural disasters to young readers. This book provides a beautiful platform for building on children's awareness of bushfires, keeping safe, and what to do in the case of an emergency. Of course, this is done skillfully by author Phil Cummings, with storytelling being the tool by which he delivers the message.
Most striking is the clever envisioning of the rescue team of firefighters as brave knights. What a wonderful story to read before an excursion to the Fire Station!
The themes of bushfires, the environment, geography, health and safety, amongst many others are some of the many ways this book can be a launchpad into a number of important and relevant areas of study. I would love this to become an Australian classroom and library staple. A book made for our country, climate and our contemporary issues.
Reviewed by Belinda Raposo